The cozy charm of fall and winter is upon us as fashion enthusiasts eagerly put together their cool-weather outfits. Whether you're looking for luxurious layers or statement outerwear pieces, this time of year is your playground for fashionable creativity. No matter if you're a fashion-forward trendsetter or someone just looking to stay warm and stylish, you'll navigate the world of cold-weather women's clothing with ease by knowing these nine cold weather style trends.
1. Oversized Outerwear
This season, one of the biggest trends you'll see with stylish jackets is oversized outerwear pieces. Oversized outerwear, in addition to being trendy, offers both comfort and practicality. You'll have that effortless, casual vibe, and you can wear loose clothing or tighter clothing underneath, depending on your style and preference. This trend is the go-to choice for any fashionista who wants both fashion and functionality during those colder weather months.
2. Chunky Knits
Chunky knit sweaters and other knit accessories have surged in popularity. They're the perfect combination of comfort and fashion. When you put on a thickly woven cardigan sweater, you'll feel unparalleled warmth as you brave the winter chill. Few things feel as relaxing as the cozy texture of a chunky knit. If you love the look and feel of chunky knits, consider other kinds of trendy sweaters to keep you fashionably warm during the cold weather months.
3. Monochromatic Outfits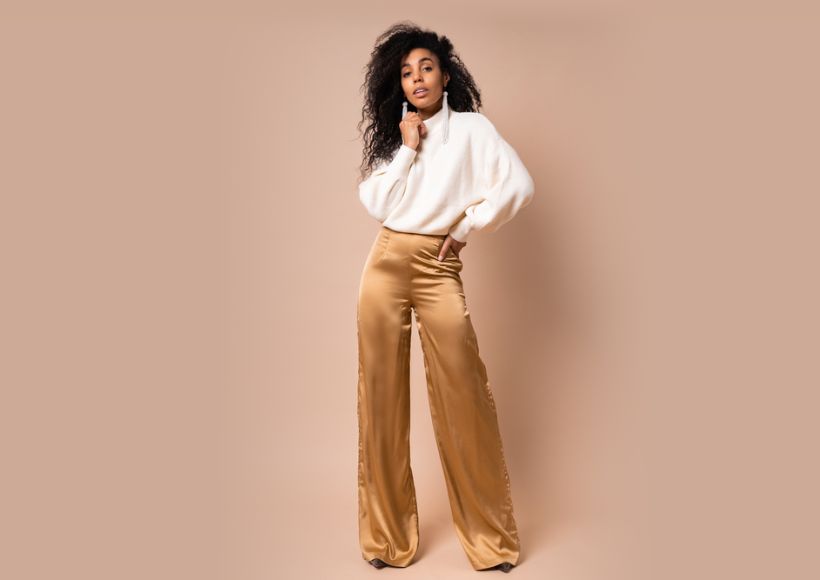 When you're looking for a simple style, wear the same color palette from head to toe. From shades of gray to jewel-toned hues, you'll have a visually pleasing and streamlined look that flatters a wide variety of body types. Not sure how to style the monochromatic look this season? Fashion influencer Natalie Yerger shared a few tips on how to style monochromatic outfits, including using subtle variations in tone, contrasting fabrics, and incorporating prints.
4. Velvet Detail
Enjoy the luxurious appearance of velvet, a prominent cold-weather style trend. Its warmth and softness make it an ideal fabric choice during those chilly months. A little velvet detail can take an ordinary outfit and give it that touch of opulence. It's perfect for holiday gatherings and festive occasions. For a more sophisticated look that's still filled with warmth, you'll love a velvet dress or pair of velvet pants to dress up your cold-weather style.
5. Winter White
While wearing white is a popular choice for the summer, wearing white during the cold weather months can defy traditional fashion norms. The color exudes a sense of simplicity and creates a striking contrast against the dark palette of the fall and winter months. Try wearing an all-white coat or white boots to incorporate understated sophistication. It's a way to dress fashion-forward while looking effortlessly chic.
6. Knee-High Boots
Imagine a pair of sleek knee-high boots paired with your cold-weather women's clothing. Knee-high boots are a practical and stylish choice for any lady looking for fashionable shoes that offer warmth and protection. The versatile nature of knee-high boots means you can wear them with skinny jeans and leggings as well as skirts and dresses. They're easy to dress up or dress down, depending on the occasion. Whether you choose trendy suede or classic leather boots is all up to your mood and your outfit of the day.
7. Statement Scarves
Elevate your winter style with a statement scarf. To style your statement scarf, you can drape it around your neck or wrap an oversized one around your shoulders as if it were a shawl. Choose winter colors or patterns like icy pastels and snowflakes or Fair Isle. Fair Isle is an especially popular winter pattern for scarves, clothing, and other winter accessories. You may see this traditional Scottish pattern with a geometric motif on sweaters, perfecting your apres-ski or cozy cabin look.
8. Faux Fur Everything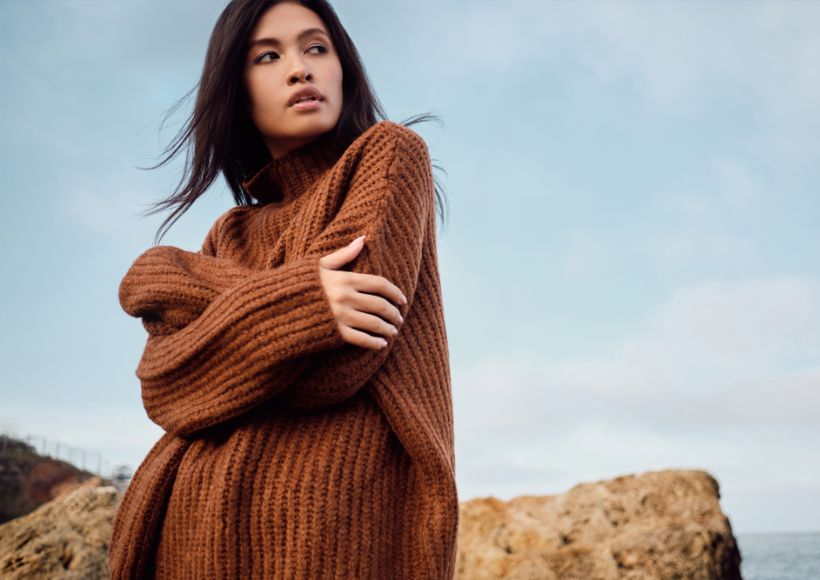 You don't have to wear real fur to stay warm and look fashionable. Wear a faux fur scarf or a coat with faux fur detail. Adding faux fur to any outfit adds instant sophistication without having to wear actual animal fur. It's a classic look with a friendly contemporary twist.
9. Turtleneck Sweaters
Cold weather is a great excuse to break out the turtleneck sweaters. If you're looking for an effortlessly chic outfit, wear a black turtleneck sweater layered with a tailored quilt vest with matching black skinny jeans and ankle booties. Finish off the look with an A-line winter coat and a cozy knit beanie for everyday sophistication. It's the kind of look that can take you from the office to a fun, chilly night out with your besties.
As we wrap up our deep dive into cold weather style trends filled with knit sweaters and comfy scarves, it's become quite evident that dressing for the chilly days ahead doesn't mean sacrificing fashion for comfort. If anything, the fall and winter seasons are the perfect opportunity to show off your sartorial savviness. Experiment with various layers, textures, and accessories to put together your chic winter outfits. Combining the right pieces with a dash of creativity is sure to turn heads as you make the most of every frosty moment.
Also Read : How To Dress Well In Cold Weather