Hair Extensions,our hair growth are 100% natural hair , so if you follow these simple advices, you can make them last for a long time. You can cut them to the height you like, scale and shape. You can also dye them , but it is not convenient to discolor them. you can wash the shampoo and also apply with a mask so that they are always healthy and as well as shiny. You can also iron them and make waves with tongs either you can use heat tools also.
In this section we are going to solve some problems about how to take care of clip the hold your extensions. Suitable care for your natural hair growth is necessary for them to last much longer.
Wash Hair Extensions
To avoid the loss of natural fat, it is best to use a special shampoo for dry hair, so the extension will be hydrated continuously washing after washing.
It is not highly recommended that you wash your extensions every day. When you do, you better keep your head up, with your hair back. Do not rub too much when washing. It is preferable that you don't wash your hair with hot water. Clip extensions do not have to be washed daily, but when the hair is dirty. We can make changes the hairstyle of the extensions like curl and straighten them, without having to wash them beforehand.
To wash them fill the sink with water at room temperature . Place the tips of the hair extensions in the water and leave the sewing base or joint out of the water. Keeping the base of the extensions dry will help you last longer and get less tangled . When lathering your extensions be careful and avoid especially rubbing your hair too much. It is advisable to wash each extension piece separately to avoid getting tangled.
Hydrate Hair Extensions
The extensions must be hydrated taking into account that it is not our natural hair extension that is, they do not receive neither the fat nor the water that the body brings to our hair. Therefore, we must place special emphasis on nurturing them carefully by using quality conditioners and masks to make them soft and shiny like the first day.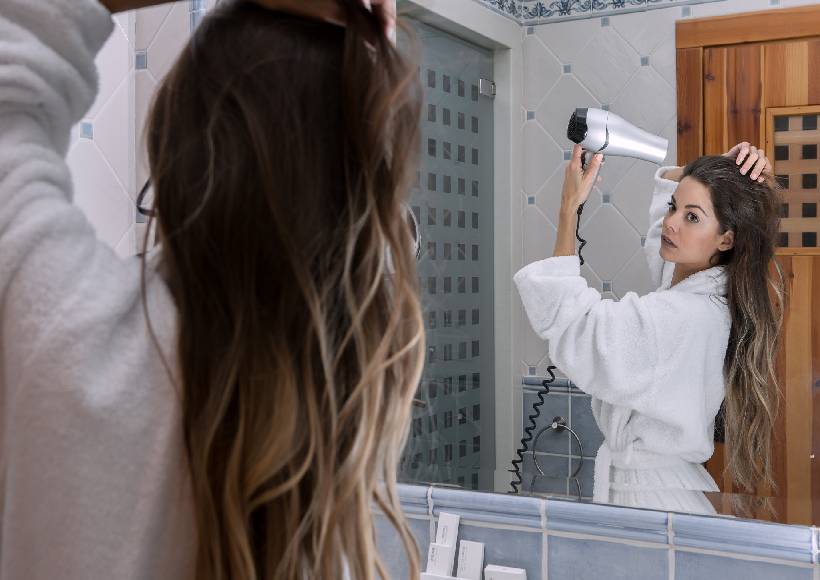 How Do I Cut My Extensions?
Hair extensions are wavy, you can further define the wave with foam and diffuser.
In order for the hair extensions to endure for much longer without breaking, we recommend using a brush with loop bristles. Brushing should be daily, always starting at the tips and continuing upwards, so that possible entanglements do not creep causing possible knots.
Can I Pass The Flat Iron Or Dryer To My Extensions?
Hair Extensions are 100% human hair. This way that we can comb them both with a dryer and with tongs or irons without any problem.
When passing the flat iron (list here) to our hair extensions, it is recommended that it be at a maximum temperature of between 150 / 170ºC, because we must take into account that the water in our hair is regenerated with food, but that of the extensions does not. Therefore, if we apply excessive heat we will cause the water that has the hair of the extensions gradually be lost. We also recommend the application prior to ironing or drying a thermal protective spray. The more we protect the extensions from excessive heat, the longer they will last and look healthier.
Can I Dye My Extensions?
Our hair is 100% human. This means that you can dye the extensions without any problem with any dye. Preferably without ammonia.
Can I Sleep With My Extensions?
We advise against sleeping with clip extensions on, since combs can take their own hair with head movements.
Does The Beach And The Pool Stop My Extensions?
Both the salt and sand of the beach and the chlorine of the pool dry and spoil our hair a lot. Therefore, it is logical to think that our extensions will also suffer these negative effects. The most advisable thing is to bathe both in the sea and in the pool with your hair collected and avoid getting wet as much as possible. To prevent them from losing softness and drying out, we should over-moisturize our extensions with a mask and brush them as soon as we have occasion.
In short, you can do whatever you desire with your natural hair growth, but keep remain in your mind that the more you abuse the less time they will last . As with your own hair, you should maintain natural hair growth well.
We hope these tips help you take the best care of your extensions and get the best out of them.
Also Read : Which Is The Best Hair Oil To Natural Hair Growth