Choosing different types of heels height of your shoes is important every day because it depends on the context of your day. You will not wear a heel of 5 cm as you will wear a heel of 8 cm and more. "As a blogger and with the experience i suggest you" explain which heel height to choose to be certain of being comfortable in your shoes according to your activities. You will be sure to support them and your feet will only get better.
In order to wear your heels all day, it is essential to choose a suitable pair. First, measure your feet to buy shoes at your size. If possible, try on the shoes and take a few steps with them to make sure the width is right for your feet and that you feel comfortable inside.
The Shape Of The Heel
The shape of the heel is also an element that will play on the comfort of the shoe. It is, in fact, easier to walk with a thick heel than a thin heel. The wedge heel, very stable and comfortable, is ideal if you are not used to wearing heels. There is no risk of it getting caught in a grid or breaking. The stiletto heel, on the other hand, is undoubtedly the one that requires the most balance and ease. Glamorous and sexy, it concentrates all the weight of your body on the front of the shoe. It is best to be used to wearing heels before walking with stilettos. The perfect compromise between the wedge heel and the stiletto heel, the square heel offers sufficient stability thanks to its width. You can easily wear it every day and use it to train to walk with heels.
Heel Size
You must then choose the heels and size of the heels. If you are comfortable and used to wearing them, you can head for high heels over 8 centimeters. If, on the other hand, you do not often wear heels, prefer a model of fewer than 6 centimeters. The platform, or platform, located at the front of the shoe is a tip that helps reduce the arch of the foot. If you opt for heels of 10 cm, but the shoe has a plateau of 3 cm, then the arch of the foot is only 8 cm. This technique provides more stability and reduces the pain that high heels can cause.
Medium Types Of Heels (5 to 10 cm)
The medium heels are the most widespread because they allow lengthening the silhouette without being too dizzying.
You can wear them both at work and in the evening, they adapt to your look!
To start, you can choose heels of 5 or 6 centimeters: perfect for training to walk with high heels!
High Heels (over 10cm)
High types of heels are often reserved for evenings or dinners in restaurants. The shape that the foot takes when wearing high heels is anything but natural! Pain and blisters follow.
To be comfortable with heels, it is best to opt for a platform on the front of the shoe to reduce the camber of the foot.
We prefer wide heels which are more comfortable and provide stability. As a bonus, they are right in the fashion trends of the moment!
Very High Heels
In general, their height is more than 14 cm and they are adopted by the smallest of us. These have little interest. Why? Because they defy the laws of gravity and it is almost impossible to have a secure gait with this height. In addition, your health is threatened.
What Type Of Heels To Choose?
Heeled shoes, synonymous with elegance and style, are often difficult to choose. The ideal pair must have many qualities, including comfort. The choice of the pair that will accompany us for a whole season is often perilous because the options are numerous. So, heeled boots or pumps? Platform or stiletto heel? We offer you a guide to the different types of heels shoes as well as advice on how to choose your new comfortably.
With shoes, the advantage is that there is really something for all styles and tastes, especially when it comes to heels. There is a multitude of different types of heels. Here are some types of trendy and practical heels.
Kitten Heel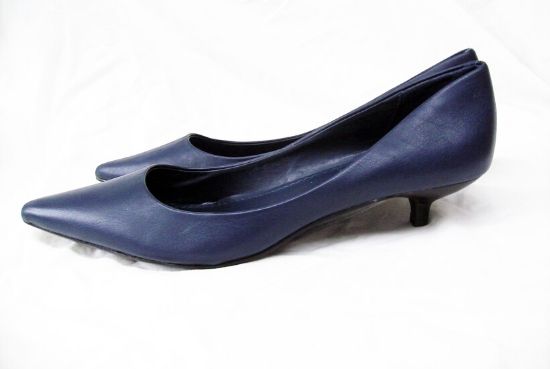 The name is not common and yet you come across it more often than you think. It measures between 3.5 cm and 5 cm and therefore belongs to the category of small heels.
An excellent alternative to high heels, it is particularly recommended for those who are starting to tame heels or those who are too large to fall for 12 cm. Very trendy in the 1950s,1960s, and 1980s, it is still relevant today.
Most? It allows you to stay feminine without hurting your feet at the end of the day.
Pumps Heel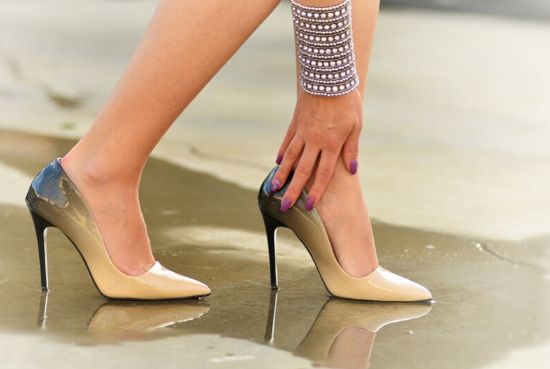 It is the ultimate female shoe, the shoe is open and light with variable heels and fine soles, the shoes reveal the kick. The pump can have several types of heel and sole heights. If you want to be trendy, your shoes must show the kick and the beginning of your toes.
The pumps have an average height between 6 and 8.5 cm. 10 cm pumps are called stilettos.The pump does not have a closure, you slide your foot in to put on your shoes.it can be round, open, pointed or square,It became feminine in the 20th century because in the past it was worn by valets and men.they are timeless, timeless.
Stilettos Heel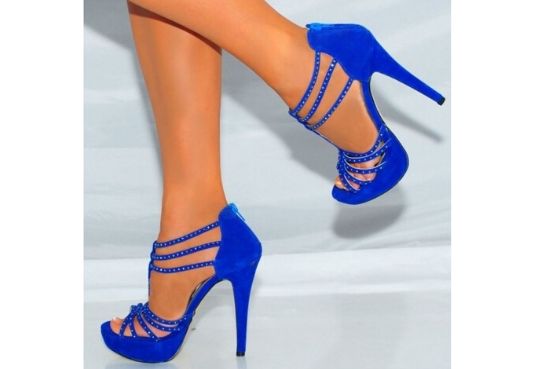 No doubt, the stiletto heel is indeed the best known and most appreciated. Its height generally exceeding 7 centimeters.
Very thin, as sharp as a peak of ice, we present you the stiletto heel. Considered by some to be the pinnacle of femininity, it is not suitable for everyone
It is renowned for refining the silhouette and guaranteeing a mannequin approach. However, it's very pronounced camber can cause back and plantar pain.
The Square Heel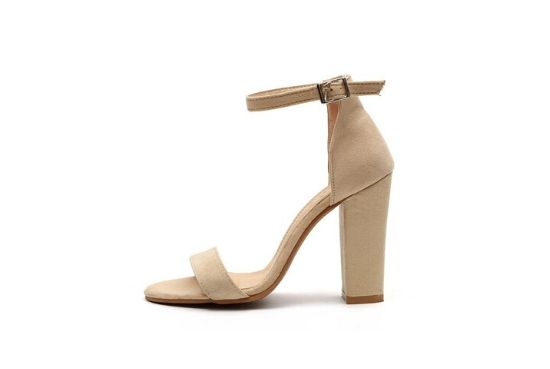 The square (or straight) heel is the big trend of the moment. These shoes are probably the most comfortable and practical. The heel can be low or high. It is found on boots as well as on sandals or ballerinas. It is more than stable, with him, no risk of falling. He has nothing to envy his neighbor with the stiletto heel because he too assures us of a determined and feminine gait.
Wedge Heels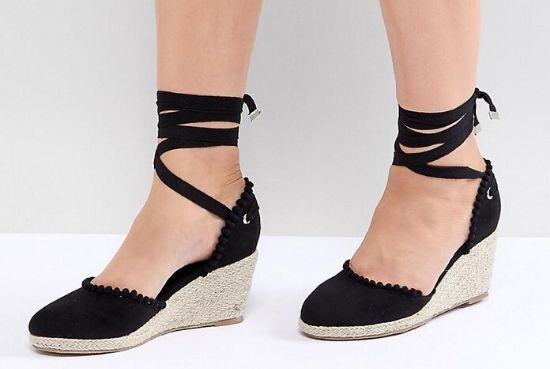 The sole is the same width everywhere, which makes them ultra-stable.
We find more or less tall models depending on our mood. First considered as summer shoes, there are more dressy wedges. The dressmakers have made it a real fashion accessory, an essential part of our wardrobe.
Covered in sequins, fringes, with a sequined heel, in cork or rope … We swear (almost) only by them. Their plus? Their heel adapts to all occasions and gives us serene stability.
The wedges are feminine and in addition, they offer a nice curve to the leg, which is not to displease us.
Platform Heel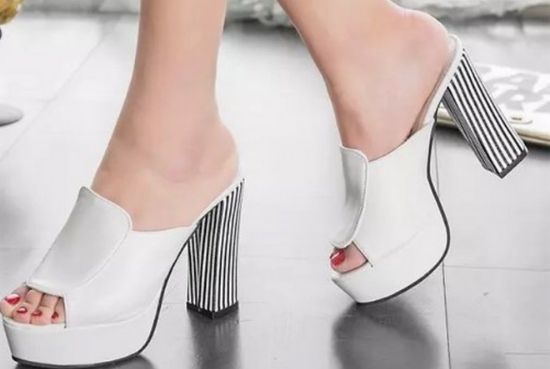 When you want to have the approach of Gisele Bündchen without running the risk of spraining your ankle, you opt for platforms.
At the front of the shoe (under the sole of the foot), there is a platform several centimeters thick.
Its role is to "soften" the heel height. Platform = stability + femininity.
The Arty Heel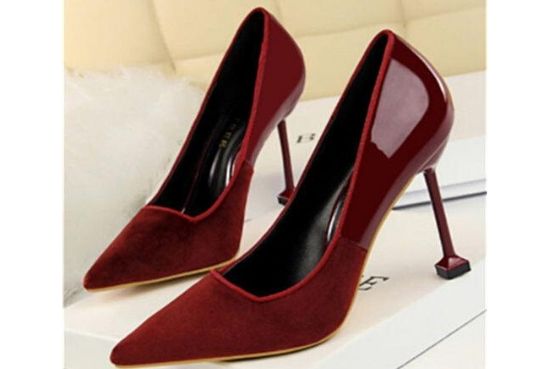 A wind of originality blows on your shoes. We find pretty white pearls, precious stones, flamingos…
We love their work of art appearance and their colors, which boost any look!
The Tapered Heel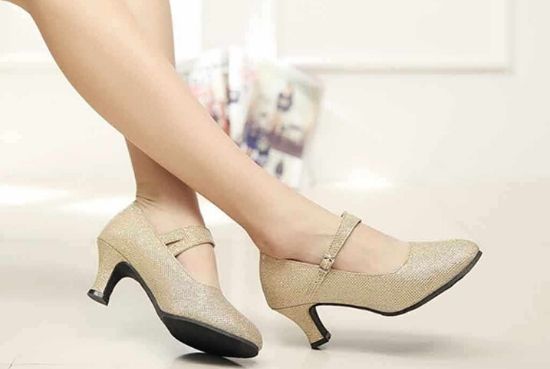 These heels are flared at the top and shorten at the bottom.
They are nonetheless stable and comfortable.
They are sometimes called trotters because when they measure only a few centimeters, we can wear them all day without seeing our bruised feet
How To Combine Your Heels
With pants Aside from jogging pants or sports leggings, you can wear all types of stockings with your heels. With your tailor cut cigarette, it will give you tapered legs, with a 7 / 8th your ankles and feet being highlighted you can emphasize your beautiful shoes and with loose pants, it will allow you the prettiest of masculine looks- feminine.
With Jeans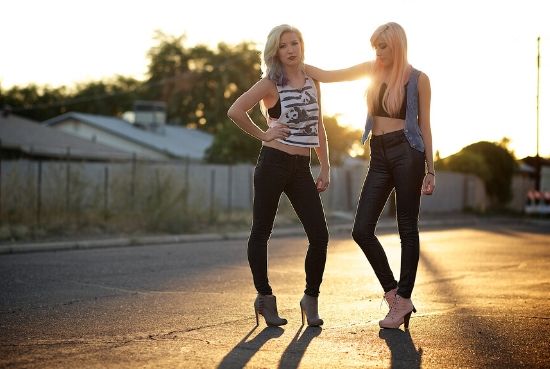 If you opt for plain jeans without details, it is certain that you fall into the so-called basic category. But to stand out, feminize and finalize your outfit, heels are essential. If you take the example of the boyfriend: borrowed from the male wardrobe, it is basically far from being feminine, isn't it? Well add heels and you will see your outfit will be transformed. They go just as well with slims, cigarettes or bootcuts.
With Skirt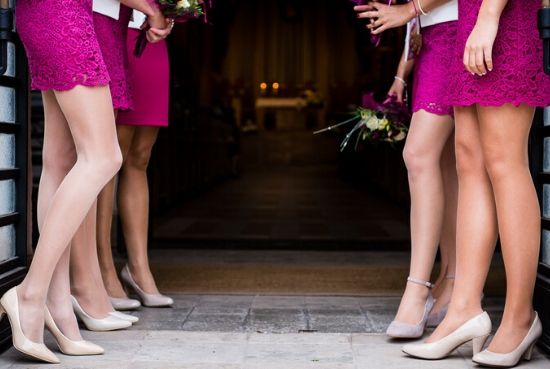 Skater, scabbard, midi and pleated anything goes! Provided you monitor the length of your skirt. Because as you know, a skirt that is too short and heels do not always go well together, so choose a model at least below the knee.
Precautions
To avoid hurting yourself with high heels, put talc on the inside of the shoes you wear without socks (sandals, pumps). Moisture is the first source responsible for the friction that causes burns, which are responsible for blisters … Talc will thus be able to absorb all the perspiration and protect your pretty little feet
Heels are not recommended for pregnant women, this intensifies ligament pain and can cause back pain.
The pointed ends are to be reserved for occasional use (evenings), they compress the toes too much which is really not recommended.
If your profession requires you to wear heels, choose wide types of heels that are more suitable for everyday use.
Stilettos must really be worn occasionally because they cause pain throughout the body in the long term: as your weight puts too much pressure on the toes, it upsets the overall balance
Related Article: Different Types Of Women's Skirts