Young Japanese men have gone crazy for an ultra-sexy female fashion item! This sweater is called "Virgin Killing," which you can translate by "virgin killer." This sweater was also designed expressly to attract their attention. And it works! It must be said that this fashion accessory that looks like a traditional wool turtleneck that reveals a side-boob on each side leaves the back ultimately bare to the top of the buttocks to excite any man still virgin to the point of dying.
What Is The Virgin Killer?
It's called Virgin Killer Jumper, and it's the sexy sweater that's driving social media crazy. It is produced by the Japanese brand Village Vanguard, has a high neck, is sleeveless and features a deep neckline on the back that allows you to glimpse the lower back. Of course, it must be worn without a bra if you want to be truly glamorous, to leave very little room for imagination.
Just search for the #virginkiller hashtag on social media to realize how super popular it has become. Sure, it's not ideal for dealing with freezing winter temperatures. Still, the only sure thing is that it is depopulating all over the world as it allows you to reveal your graces, imitating the look of manga heroines. Its price? 3,980 Japanese Yeni e. around $32.46. The Virgin Killer Jumper has had so much demand that the brand is re-proposing it in even bolder new models with deep necklines on the decollete. In short, Japanese women do not fear the cold, what remains to be asked is: do they really have the courage to go out half-naked to follow the fashion of the moment?
According to the Pixiv Encyclopedia, the sweater was initially named "Virgin-Killing Sweater" based on the name "Virgin Killing Clothes" in a tweet by @ Magane4989 in January 2017. The tweet featured images of blue and black halter neck sweaters. In just four days, the tweet earned over 67,000 likes and 56,000 retweets.
Best Virgin Killer Sweater
Sorrica Women's Cable Knit Pullover Sweater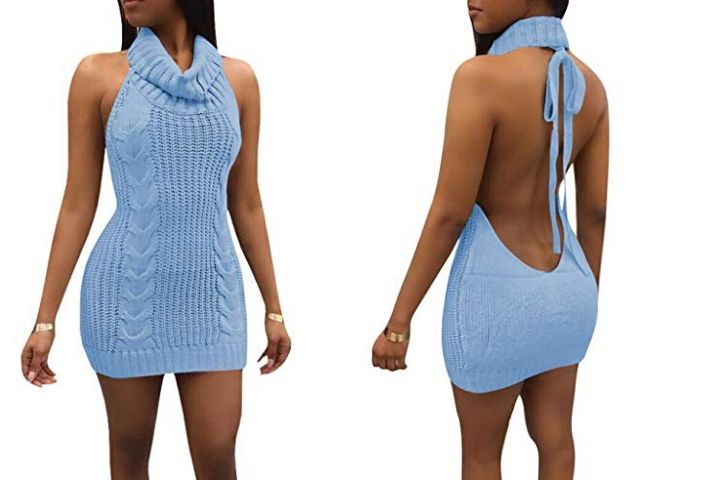 If you have long legs, this virgin killer sweater is the best choice, which gives you more impressed. The material of the sweater is softer and more comfortable. It comes with a hemline that stops at your thighs, and knitting is fine.
TOMORI Women's Virgin Killer Sweater with Lingerie Set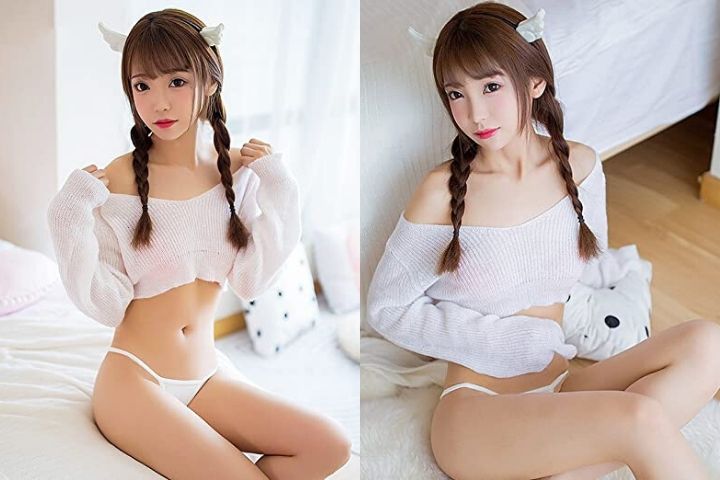 This virgin killer sweater is the best for your bedroom, which makes things heat up. The thin material of the sweater little see-through. By wearing, you can show off trim waist and collar bones, with its cropped and off-shoulder. The set comes with a cute headband for the outfit.
Lucky2Buy Women's Backless Virgin Killer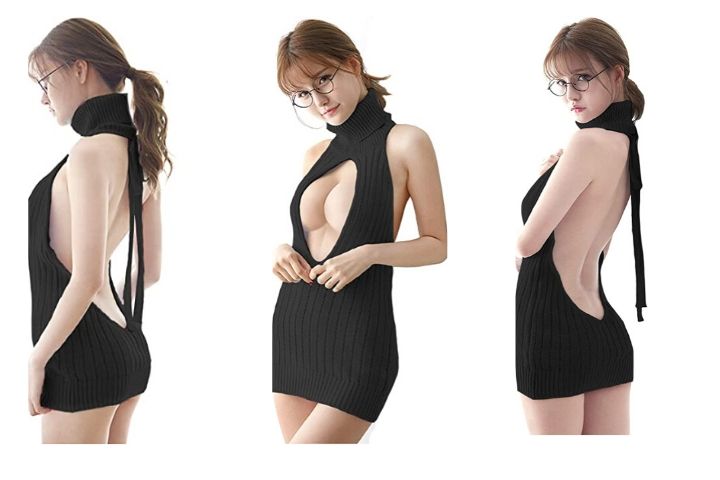 This sweater is made of soft and comfortable material. It hugs your waist with its stretchy material. A deep keyhole plunge of the sweater gives a unique look. This Virgin Killer Sweater is best to wear on the beach over the bikini. This sweater is the best choice to buy and get a good compliment. The size of the sweater may be short for tall people.
PXmoda Womens Backless High Neck Virgin Killer Sweater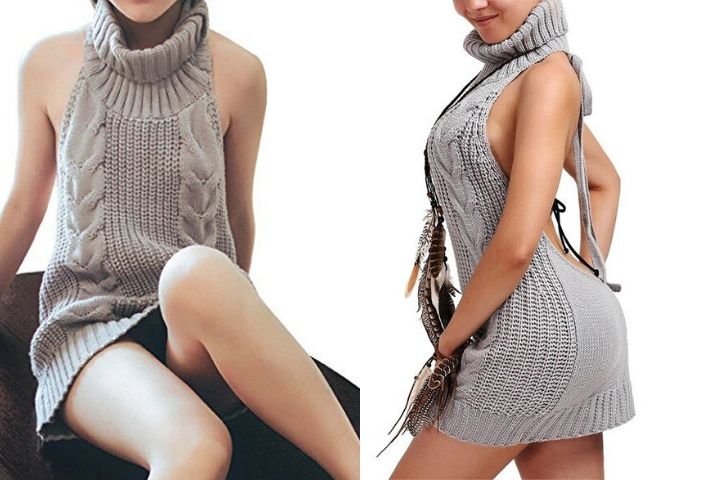 This Px Moda Sweater is stretchable and soft. This virgin killer sweater is made from a high quality knit wool. The material is thin, even if you can wear it in hot months. The snug fit of the seat can emphasize your waistline. It may be short to wear for tall people. The charming and tempting of the sweater makes a virgin killer sweater.
H&L Japanese Lingerie Sleepwear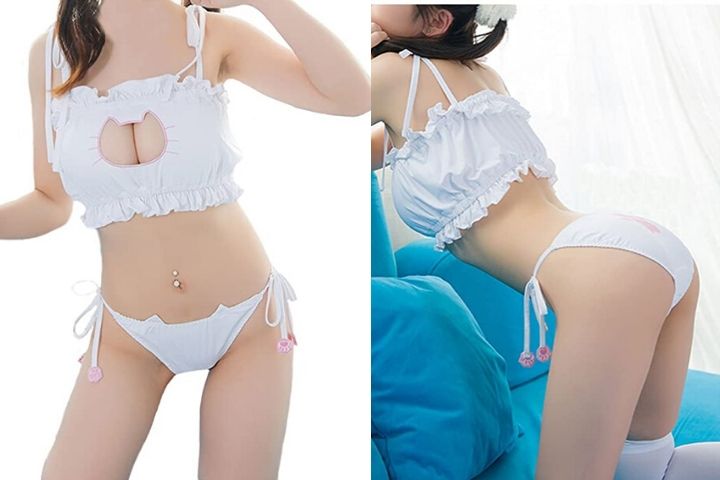 You can get a pantie, choker, and bra when you purchase H&L Japanese Cosplay Sleepwear. On the chest, it comes with cat embroidery. It makes it look as seductive with a keyhole in the front—the bell choker with a set that makes her look feminine, feline, and fierce. The snug fit makes it attractive, and this virgin killer sweater is perfect for the bedroom.
Nicetage Women's Sleeveless Virgin Killer Sweater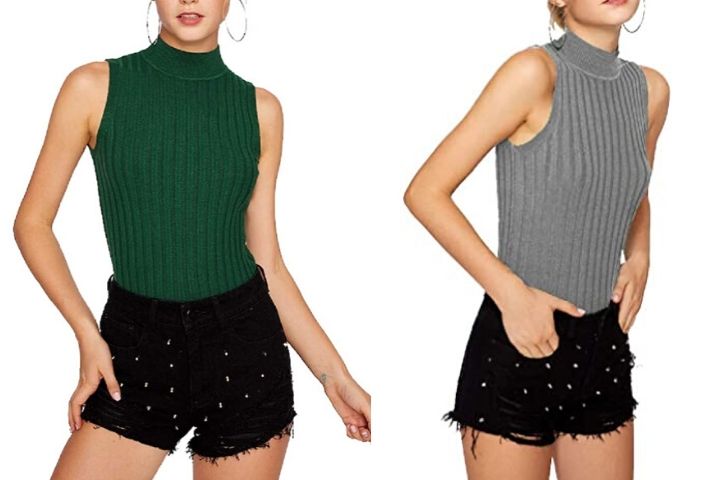 The acrylic fabric of the seat can be comfortably worn all day. You can paint  with a coat or blazer in winter. This is the best outfit with trousers, jeans, skirts or leggings. This ribbed sweater should have for your wardrobe.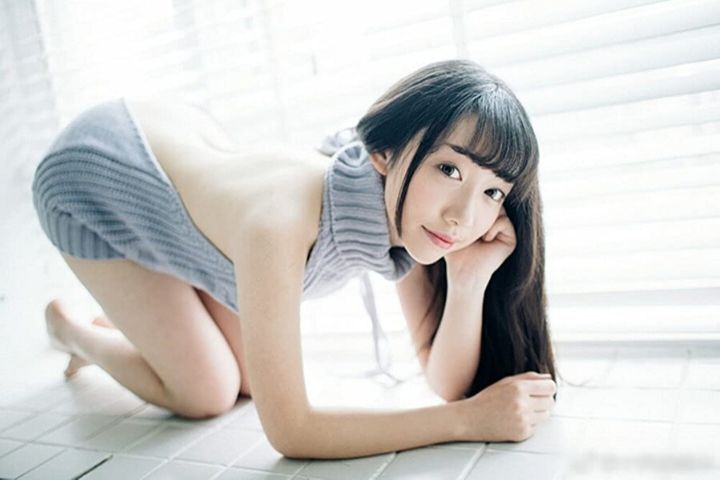 It is made of stretchy material and comes with free size. The best option for pairing with a coat. It comes with a broad open back and bikini bottom design. At the bow of the end, it can be tied neatly.
Also Read : Best Erotic Games For Women 2020