Your wedding day is one of the happiest days of your life. It's your day to celebrate your love with friends and family and wear your dream dress. It makes all the planning, the early morning wakeup call, and the sore feet worth it. With photographers on hand capturing the special day, it's no surprise that a lot of brides want to shake up their look between the ceremony and the wedding. This can be tricky as the bride is pretty busy on her big day, and won't have much time (or space for makeup) to transform her look. 
Changing up your look after the ceremony is perfect if you've opted for a more traditional bridal look, but you want to add something a bit more unconventional or fun for the party. Here are some quick and easy ways to switch up your bridal look from a natural look for the ceremony to a more glamorous one for the party.
Add A Pop Of Colour: 
One quick and easy way to brighten up your bridal look for the wedding party is with a splash of colour. Why not switch up your bridal shoes for a colourful pair that you can dance the night away. Your feet will probably be killing you after the ceremony, so it's also a great way to give them a break with a chunkier heel in a fun colour. If you really want to make a statement, find a lipstick in the same shade. It will complete the look and take you from demure bride to party-ready. You can take it to the next level by matching the colour splash to the wedding bouquet or bridesmaids dresses. If bright shoes and lipstick aren't really your style, why not add some colourful flowers from the wedding bouquets to your hair for a subtle pop of colour that suits your style.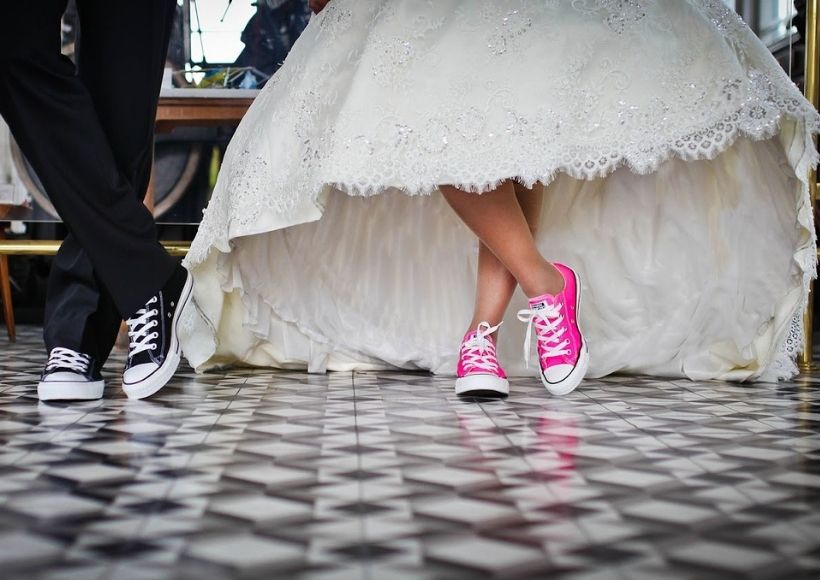 Glam Up Your Makeup: 
As the wedding day turns to the wedding night, you may want to touch up your makeup. Natural bridal makeup looks under natural light for photographs, especially outdoors, but when evening falls and the party moves indoors, you might want a slightly heavier makeup look. Indoor lighting can be harsh, mix that with an early start and a day of eating, drinking, and hugging guests, your soft bridal makeup might wash you out. As the wedding party gets in full swing and the DJ starts playing, strobe lights come on, and the photobooth fun begins, nip to the bathroom with your bridesmaids and top up your makeup. 
Start off by sweeping some shimmery highlighter across your cheekbones and the places on your face where the light hits, add a smokey eye with some kohl eyeliner and maybe even some longer false lashes to bring out your eyes under any harsh lighting, and pop on some concealer, bronzer and some matte powder to keep your makeup from slipping off. In just fifteen minutes you can totally revamp and refresh your bridal look. Just make sure to do a trial run before the big day and have some makeup wipes on standby just in case. 
Let Your Hair Down, Literally
Your wedding party is for dancing and having fun, not worrying about sore feet, ruining your hair and makeup, or damaging your dress. Plan ahead and make your wedding party a night to remember for the right reasons, by making some quick changes. If you've gone for an elegant updo for the ceremony but it's starting to feel uncomfortable or it's coming undone, swap it for a half-up, half-down hairstyle or just take it down altogether. Another great way to pump up the comfort is by swapping your veil for a sparkly tiara. Not only will it transform your look into something a bit more modern and party-ready, but you also won't have to worry about your veil getting in your way or being ruined during the fun. If you want to go even further in the name of fun, you can even pick a wedding dress with a removable train. This way you can dance the night away without heavy bridal trains getting in the way of the funky chicken.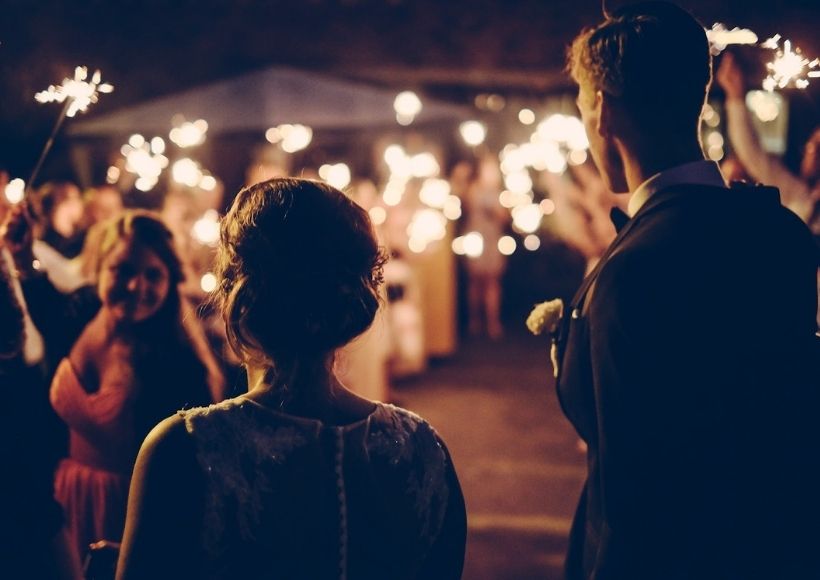 Key Takeaways
Your wedding day should be fun for both you and the guests. One way to make sure that there's room for a laugh is to plan ahead; choose the right bridal look that makes you feel beautiful while still being comfortable, don't underestimate the importance of choosing the right wedding parties entertainment to keep your guests on their toes (we're talking indoor fireworks, party games, photo booths, and bubbles), and hire a great photographer to capture all the magic of the day. 
Also Read : How To Invite Your Guests To Marathi Virtual Wedding