If you've just proposed to your partner and are looking to start planning the wedding, you're not alone. In fact, statistics show that 25 percent of couples immediately ask close loved ones to join in on the engagement party planning after the proposal and another 25 percent start planning the engagement party just a month after the proposal. The weather is finally beautiful and warm. That means it's time to have your sunny summer engagement party. All of this planning and excitement is a preview of what's to come for the actual wedding day. From channeling your inner artist to getting cheesy when you show off your engagement ring, get pumped and get ready with our 10 engagement party ideas that are perfect for summer.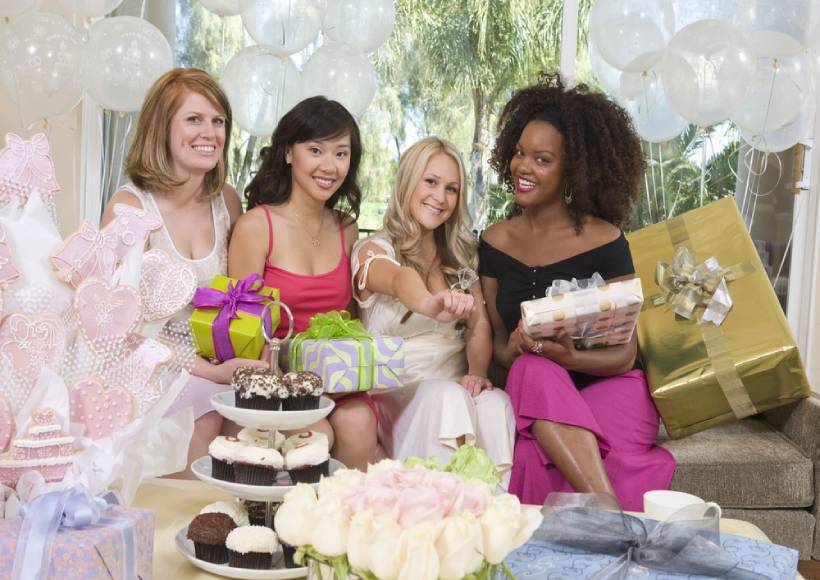 Paint and Sip — If you've ever been to one of those fun paint and sip events where you paint a sunset while drinking BYOB wine and eating some cheese, you'll love a paint and sip engagement party. Gather all of your loved ones and inspire your inner artists. Have everyone bring their own drinks and light fare for snacking. You can follow a DIY painting instructor on YouTube or one of Bob Ross's old videos on painting.
Tea Time — A tea time event is perfect for both an indoor and outdoor engagement party. Whether your engagement party day is rainy or sunny, you can have a tea time get-together. Have everyone dress up in their Sunday best as you all gather around to have tea, crumpets and finger food. This kind of party pairs well if you're donning a vintage chic engagement ring style such as rose gold princess cut engagement rings, perfect for the regal bride-to-be.
Backyard BBQ — Fire up the grill. It's time for your backyard BBQ engagement party. Have options for meat-eaters and also for vegetarians or vegans who won't partake in cheeseburgers. If anyone has any dietary restrictions or allergies, be sure to ask ahead of time before the party.
Say Cheese! — If cooking or grilling isn't your thing, you can set up charcuterie boards and cheese boards for your guests. Call it a cheese party. Your engagement party will be the cheesiest — and not in a bad way. Every one of your guests can bring a different cheese along with a wine bottle to pair with the cheese. That way, everyone can try different wines and cheeses at the party. When you're taking photos and literally saying "Cheese!" you can show off photos of the fancy cheese you're eating along with those fancy, unique engagement rings.
Get Glam — What better way to celebrate your engagement than by going all out with glamour? If you plan on having a fabulous wedding, you can have an equally fabulous and glamorous party. Have your guests dress up in black tie attire for the wedding. Everyone can get their hair and makeup done for this glamorous engagement soiree. The pictures will come out great, and it's sure to be an affair to remember.
Go Glamping — Here's a fun twist on a glam event: go camping but make it glam. You don't have to go hiking in discomfort. Find glamping opportunities near you to see how resort-style amenities can meet the wonders of nature. This is a great option for more intimate and adventurous engagement parties.
Just Beachy — If you live near the beach, take advantage of the beautiful summer weather by hosting an engagement party at the beach. Soak in the sun. Surf the waves. Wear plenty of sunscreen and floppy hats. Guests can wear swimsuits that say "Team Bride" or "Team Groom" to indicate which side they're on as they play games like beach volleyball and ultimate frisbee.
Unicorn Party — You've found your perfect unicorn match. You thought they didn't exist, but it turns out that unicorns are real. Have your guests celebrate finding your unicorn with you by hosting a unicorn engagement party this summer. Everyone can dress up in their best unicorn attire. Think rainbows, glitter and, of course, magical unicorn horns. All the treats can be inspired by this mythical creature like unicorn-themed cakes and cupcakes.
Intimate Dinner Party — Host an intimate dinner party for your closest loved ones for your engagement party. It can just be your bridal party and groomsmen. If you really want an intimate celebration, you don't even have to celebrate with anyone else. Have it just be the two of you if you really want this special moment just for yourselves.
Virtual Celebration — If you have loved ones who can't make it to the wedding or don't live near you but still want to partake in the celebration, host a virtual engagement party. Everyone can gather around on Zoom as you all play games together like "Two Truths and a Lie" and "Who Knows the Couple Best?" It's a great opportunity to show off your wedding rings or ask for advice on what kind of wedding bands to get for the big day. Even if they can't be with you in person, everyone will appreciate that you were all able to take the time to get together. If you really want to up the glam quotient, some nice bouquets can do wonders. You do not even have to reach out to your florist. Simply go online and get whatever flowers you want delivered from BloomingBox.
Also Read: Types Of Earrings: How To Choose Earrings For Your Face Shape