As rare as they are beautiful: if you were born with green eyes you definitely have an edge! The latter are very special and rich in shades, find out how to make up green eyes well to make them even more beautiful, bright and magnetic!
People who have green eyes are very rare, in fact, according to an estimate they correspond to about 2% of the world population . In some countries, however, they are much more widespread, especially in those of Northern Europe such as Scotland and Ireland where the percentage of people with this eye color is equal to 85% of the population. In any case, this shade can occur in any people, even of different ethnic groups. Green eyes have always been considered very fascinating and have become the subject of several studies.
A curiosity about this particular shade of color is that there is no green pigment present. The green color would be nothing more than the result of a combination of pigments , melanin and lipochrome. Also, the way the eye absorbs and reflects light helps determine eye color. Unlike the Brown eyes or blues, green eyes appear later in children, usually between the sixth month and the third year of life. People with this beautiful eye shade are said to be very curious, creative, mysterious and sometimes jealous.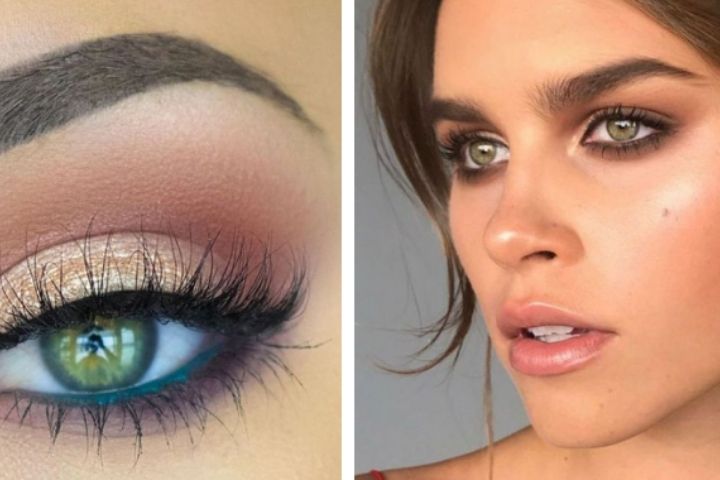 Such beautiful and particular eyes give the face a very romantic and at the same time mysterious look. Green eyes are not all the same but are distinguished by having different shades, sometimes they are more trending to cerulean , others are a perfect mix between green and brown. If you are wondering how to go about enhancing your look with makeup, you must know that there are several tricks to do this. First of all, to create the right make-up you will have to take into account the shape of your face and obviously that of your eyes, which can be large, little ones, sunken or with drooping eyelids. Other equally important factors are the color of your complexion and that of your hair remember also that a good makeup base is good to cover dark circles! Once you understand all these factors, you can choose the colors of the palette that best suit your shades. Follow these little tricks, then, you can give vent to your imagination and create a perfect look.
Green Eyes: The Best Colors For Makeup
How to make up green eyes? To highlight this beautiful shade of color you can follow the color wheel and choose the right ones. In the case of green eyes, the color that highlights them most is purple in all its shades, since it is the complementary color of green. Making eye makeup using purple is easier than you think. Being a fairly strong color, you can also use a single shade of purple to create a complete eye makeup.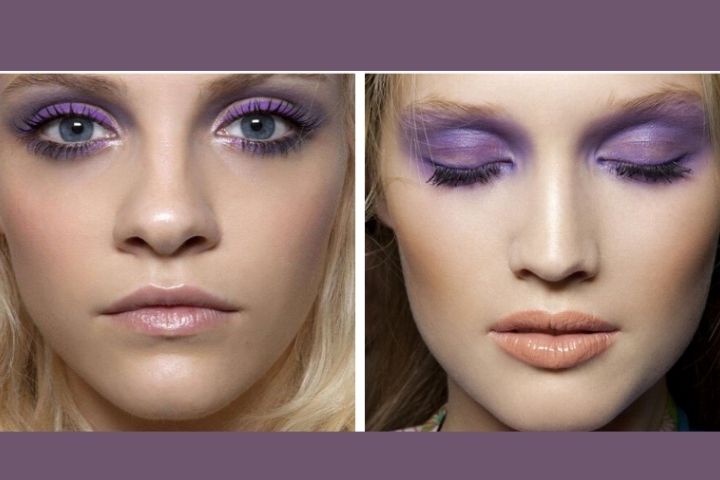 Also, if you have a dark complexion or are tanned, you can use a holographic purple eyeshadow , a trend that has literally depopulated in recent months. The glitter of the eyeshadow will be able to highlight the golden specks of your iris. Purple, however, is not the only color that goes well with green eyes and if you really don't see yourself with this color you can focus on other shades. If you have green eyes tending to cerulean you can highlight the blue of your eyes with soft pink or lavender . With these eyeshadows you can create a very romantic make-up.
If you want to be daring with a darker eye makeup you can use, instead, a red eyeshadow which is also exceptional to make green eyes even lighter. Beware of red, however, do not use too much otherwise it will seem that you have red eyes and do not use it if you have a reddened eye area, otherwise it will accentuate the defect. How to make up green brown eyes? If you want some tricks on how to make up brown-green eyes, know that you can use, in addition to those indicated above, different colors that help you bring out the golden percentage of your iris such as magenta, plum or fuchsia .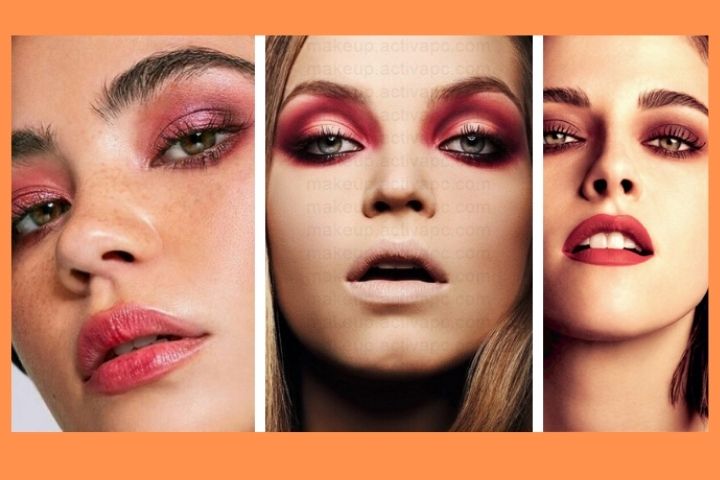 The Best Colors For Green Eye Makeup Are:
Violet
Pale Pink
Avender
Red
The Colors To Use For A Special Make-Up
If you need to wear makeup for a special occasion, you can create a glamorous and chic makeup using a few simple tricks. How to make up green and brown eyes for a special occasion? To highlight this shade of eyes with a thousand shades then play with gold , which gives shine to the eyes and combines it with a brown or charcoal eyeshadow. Gold is also a particularly good color for green eye makeup when you have red color hair . The combination of these colors will make your look sensual and at the same time very elegant. The final effect will be very similar to smokey eyes, but much more refined!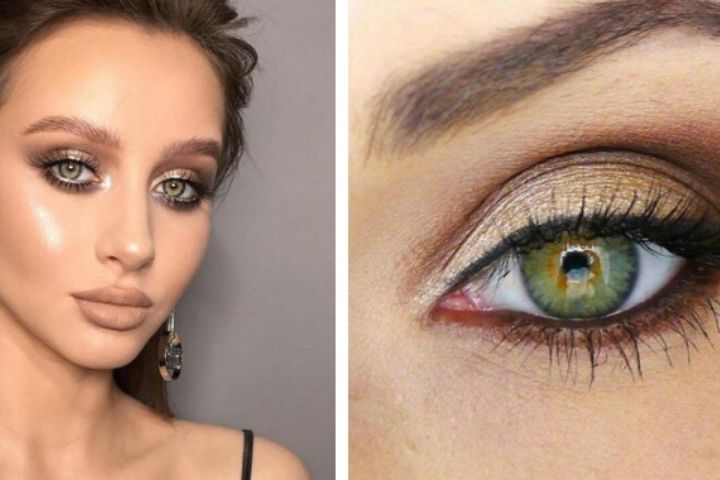 The Eyeshadows To Create A Special Eye Make-Up Are:
Colors To Avoid
Green eyes are so beautiful that it would be a real shame to turn them off with unsuitable eyeshadows. To avoid turning off the gaze, it would be necessary to know the range of colors to be able to discard the wrong ones. If you don't know which ones to avoid, you have to keep in mind that colors that are too close are never good. Following this rule, therefore, you must remember to never use a green eyeshadow unless blended with a black eyeshadow or with smokey eyes, because if you use only this color it would give the look a very banal monochromatic aspect. Other colors to be discarded for the same reason are blue, light blue and all related colors that are too cold and do not bring out the beauty and brilliance of green eyes.
The Colors To Avoid For Green Eyes Are:
How To Make Up Small Green Eyes
Bringing out small green eyes is possible with a few simple tricks. If you want to know how to wake up small green eyes, know that the first thing you need to do is to use a bright eyeshadow like gold or bronze. Another trick, on how to make up small green eyes, is to always create a light point in the inner corner of the eye and under the lower arch of the eyebrows to give the effect of a larger eye. A valid ally of small eyes, then, is mascara , even better if used in combo with the eyelash curler.
The method of applying mascara: use the curler by holding it in place for a few seconds and then apply the mascara looking upwards and sliding the brush from the lash line to the tips. The operation can be repeated several times, until you get long and voluminous lashes as you wish. Don't forget to apply mascara on your lower lashes as well to open your eyes even more. In addition to the eyelashes, the eyebrows are also important to highlight the eyes. Make sure you give the right shape to your brows and in case of small holes or gaps fill them with a pencil suitable for this and fix everything with fixing gel, in order to keep them in order. If you have small green eyes, but plump lips, you can shift the focus by using a nice red lipstick!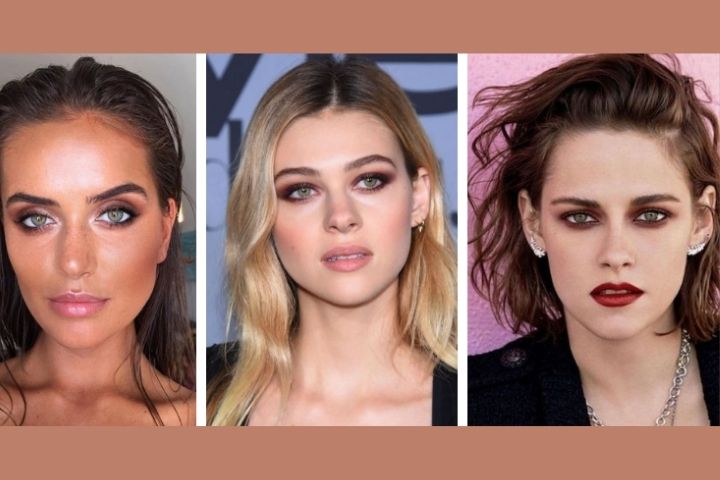 To Enlarge Small Green Eyes You Need To:
Use Bright Eyeshadows
Apply Lots Of Mascara
Keep Eyebrows Trimmed
How To Make Up Green And Big Eyes
How to make up big green eyes? If you are asking yourself this question, know that a few tricks are enough to make them smaller. First of all, don't use too light eyeshadows , but use dark ones like plum, brick and all shades of brown. For a morning make-up you can use a peach or light brown eyeshadow, while for the evening, the most suitable shades of eyeshadow are burgundy and burgundy. If you have large green eyes you can use the chiaroscuro technique to make them smaller. Apply a brown or dark purple eyeshadow on the eyelid and blend very well in the center, and leave it more defined in the contours of the eye. Complete the eye makeup by applying a black or dark pencil inside the inner eye line and a generous dose of volumizing mascara.
To Make Up Big Green Eyes You Need To:
Avoid Light Eyeshadows
Use Dark Eyeshadows
Use The Pencil In The Inner Line Of The Eye
Use A Volumizing Mascara
How To Make Up Green Eyes With Droopy Eyelids
If you have the drooping fixed eyelid, you will surely have the less visible mobile one for this it is difficult for you to make up. Don't worry, even in this case it is possible to implement some tricks to create an ad hoc make-up! Among the many methods to enhance make-up on a droopy eyelid is to use tufts of false eyelashes and apply them strategically on the outside, in such a way as to open the gaze. Another very popular technique for eyes with drooping eyelids, is that of eye contouring which consists of a play of light and shadow. Finally, the choice of the shade of the eyeshadow is also very important. Aim for eyeshadows with a neutral shade and a satin finish, while it would be better to avoid glitter and glitter creamy eyeshadows.
To Make Up Green Eyes With Drooping Eyelids You Must:
Use Tufts Of False Eyelashes On The Outside Of The Eyelid
Create The Eye Contouring Technique
Use Eyeshadows With A Neutral Shade
Avoid Glitter And Creamy Eyeshadows
Makeup For Blonde Green Eyes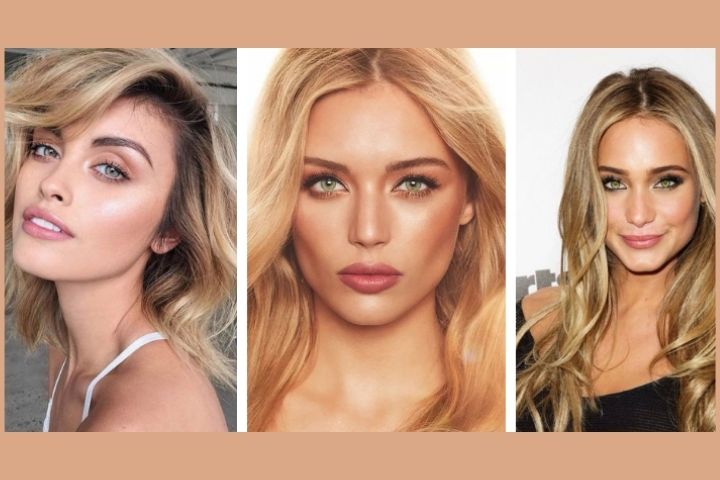 The blonde with green eyes appears like a real diva wisely applying the color purple , in various hues and shades on the eyelids. The outer corner of the eye should be darker as it stretches along the crease of the eyelid and fades inwards. In the underlying part, a slightly lighter shade will give light and volume to the make-up. The magic touch will be given by a hint of red or pink that contrasts with the green of the iris, making it stand out.
Evening Makeup For Green Eyes
The perfect make-up for a special evening like in a dance club, could be the one characterized by two colors in particular that are applied one on the mobile eyelid and the other along the lashes in the lower part. The inner corner is illuminated creating a point of light, while the outer one is darker and colored in an intense shade of purple eyeshadows . The addition of glitter makes the makeup tips complemented by eyeliner and mascara magical in addition to an addition of wisps of Fake eyelashes on the outside of the eye.
Light Skin Green Eye Makeup
With fair skin and green eyes , a soft pink eyeshadow should be used with an enhancing effect for the eye tone. Alternatively, you can opt for the application of lavender or intense ultra violet tones and without half measures. If green eyes have an iris shade tending to hazel, you can dare by sporting a plum or fuchsia make-up, an eye make-up for women who do not want to go unnoticed. This solution can also be perfect as a makeup for women with green eyes, brown hair and fair skin.
Also Read : How To Choose Bridal Makeup: 5 Useful Tips