There are an incredible number of ways to style blank t-shirts. Before you start shopping, consider the weather, the venue, and your tastes. If you're beginning to build your blank t-shirt wardrobe, consider sticking with neutrals since they go with many looks. If you're expanding your t-shirt wardrobe, add some fun complementary colors to wear with items already in your closet.
First Date Outfit
You only have milliseconds to make a first impression. Think about wearing a blank slim fit t-shirt under a blazer and your dress pants. Tuck your t-shirt in and wear a belt with a simple buckle. Then, opt for your clean sneakers, not your athletic shoes.
The best pants to wear will have a couple of pleats in the front because they will help you look a little thinner. Consider the venue when choosing your blazer. If it is more upscale, choose a structured blazer, but if it is more laid back, opt for a deconstructed one. Don't forget to add a few accessories to your outfit. For example, you may want to wear a simple gold or silver chain necklace.
Casual Dinner Outfit
Blank men's t-shirts like those you'll find from Fresh Clean Threads can be a fantastic option if you are heading to a casual restaurant. Start with a v-neck t-shirt. Then. pull a button-down shirt over the top. Put on your favorite chinos.
If the weather is cool, choose a long-sleeve blank t-shirt and a long-sleeved button-down shirt.
You can go several ways with the colors in this outfit. For instance, wear a white dress shirt with a blank blue t-shirt and your khaki chinos. You could also create a monochromatic outfit by wearing a light brown dress shirt, brown blank t-shirt, and dark brown chinos. Make sure that there is a noticeable difference between your pants and t-shirt color. Otherwise, your outfit will clash.
Weekend in the Country Outfit
Men heading out for a weekend in the country will definitely want to pack their blank t-shirts. If you are wondering how to style blank t-shirts for a weekend in the country, they are a perfect option for wearing with your denim jeans. If choosing bootcut jeans, a t-shirt that hangs a bit away from your body is a perfect option, but if you love slim-fit jeans, pick out slim-fitting tees as they will help balance your body better.
Whichever style you choose, tuck the shirt into your jeans and wear a belt with a large belt buckle. Add a touch of color to your outfit by tying a bandana around your neck. This is the ideal option for wearing with your cowboy hat and boots.
Grunge Outfit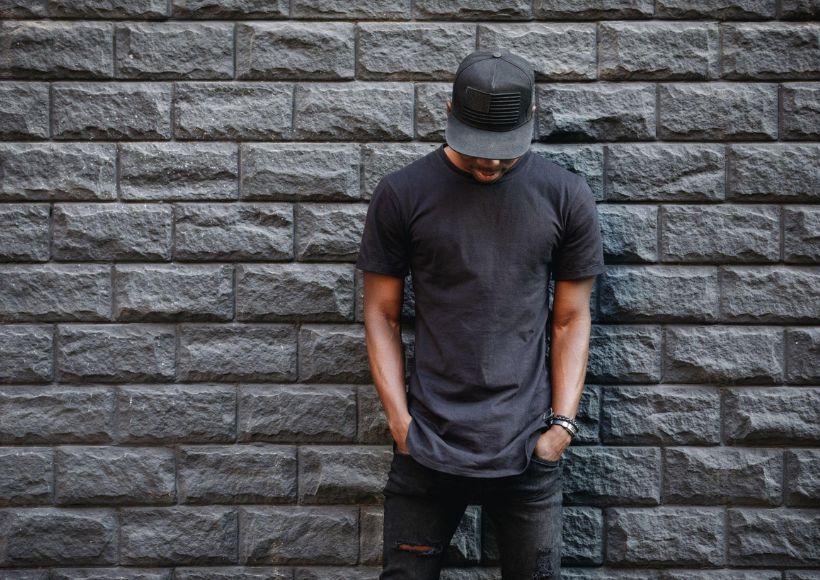 It is incredibly easy to create a grunge look with a blank t-shirt from Fresh Clean Threads. Select one that is a size or two too big so that it will hang down. Then, wear your baggy cargo pants. If your pants do not already have a lot of metal on them, use safety pins to add some more. Ensure that there is one running from a belt loop on your pants to your wallet that is tucked into a back pocket. Complete the look by wearing your combat-style boots. This is a great choice if they stay on your feet without their laces. You will also want to drape a gold chain or two around your neck.
Weekend at Home Outfit
Blank fitted t-shirts are ideal for a lazy weekend at home when you pair them with your favorite sweatpants. If you must wear shoes, select your favorite slip-on tennis shoes. This look is terrific when you complete it with a beanie.
If you love music, think about a Bluetooth beanie, but if solitude is your vibe, select one without a cuff so you can pull it down over your ears. This outfit also works great for running errands in your neighborhood or hanging out with friends.
Time on the Boat Outfit
A day on the boat is a great way to relax, and wearing a comfortable blank t-shirt will make it even better. Wear the t-shirt with your favorite casual shorts. You can leave it untucked or tucked in, depending on which is more comfortable for you. Wear it with a boat hat. One that has a wide brim all the way around will help stop the sun from reaching your skin and damaging it. You will also want to wear your sunglasses. While you can opt for various styles, be sure that they cover your entire eye as you do not want to deal with sun damage. Boat shoes are a fantastic choice because they have extra traction on the bottom to help you maintain your balance on slick surfaces.
1980s Outfit
Parties with a 1980s theme are a lot of fun, and learning how to style blank t-shirts to create an outfit is straightforward. The best t-shirt will match one of the colors in the button-down shirt. If you are thin, you can wear a shirt with a large print, but if you are heavier, choose one with a smaller print where the pattern seems to disappear at a close distance. Then, put on a button-down shirt over the top, but do not button it. Whether you wear your platform shoes or opt for your leather flip-flops is your choice.
Add Blank T-shirts to Your Wardrobe
Now that you know how to style a blank t-shirt, you will want to add many color choices to your wardrobe. Companies like Fresh Clean Threads offer a huge selection of tees to choose from.
Also Read : Clothes (Don't) Make A Person