So, you are no longer looking for your perfect half now. Finally, there is your special someone with whom you want to spend the rest of your life with. Now, its time to buy your perfect engagement ring for your special day.
Your engagement ring design should be the one that will showcase and embody the loving bond that you share with your special someone. You need an engagement ring design that will share all the memories you have with your loving partner over the years.
Also, you want your engagement ring to show the present moments you are experiencing. Finally, your engagement ring design should indicate your bright future ahead. A future of bond, love and shades of happiness. For this, the 3 stone diamond engagement rings is the perfect choice for you.
Three stone diamond engagement rings carry an exceptional significance. The meaning 3 stone ring design shows is different from what every other ring style shows. It does not even resembles a standard solitaire ring design.
Meanwhile, three stone engagement diamond ring come with the means to tell the story of a couple without any word. Symbolically, the three stones on these ring designs depict the past, present, and future.
Design Your 3 Stone Engagement Ring in Any Shape
Three-stone ring settings can be created with any diamond shape, but work best with round brilliants, radiant cuts, cushions, princess cuts and emerald cuts. When designing a three-stone ring design, it is important that the stones compliment each other, rather than clash.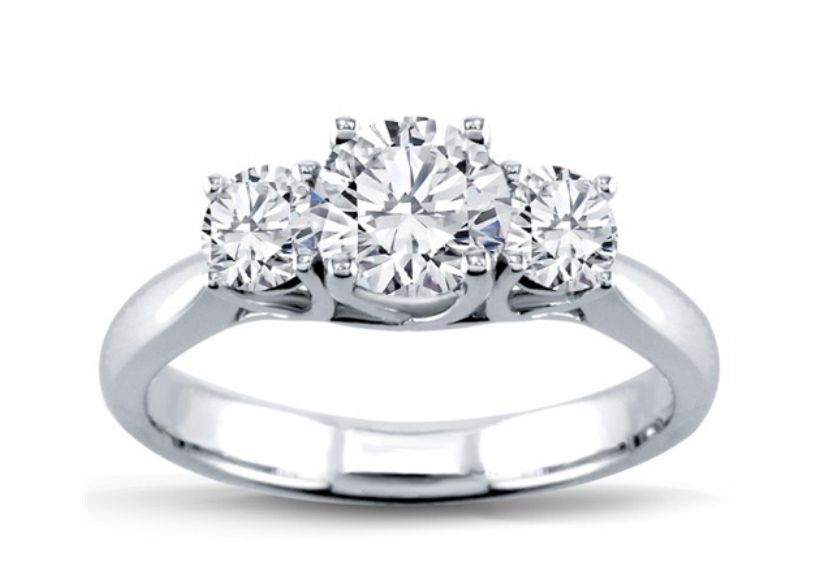 Styling Three Stone Ring Design
Since three stone ring designs often feature a slightly curved silhouette they pair perfectly with a wedding band. Three stone ring designs also make a superb base around which to build a stacked look which includes other ring designs such as your plain band, eternity band or a solitaire.
When pairing with other ring designs, avoid scratching them by ensuring the diamonds on your three stone ring don't extend far beyond the band's edges.
Three-stone ring designs make a bold statement, however, some who chose this unique style engagement ring design have trouble finding beautiful wedding bands to pair with their three-stone combination.
An emerald cut three-stone engagement ring pairs beautifully with many designs. The three-stone emerald cut and step-cut trapezoid ring particularly pairs perfectly alongside an emerald-cut eternity band. The designs reiterate the step-cut facets of the emerald-cut center, maintaining a cohesive look between both the band and engagement ring.
Also, when you pair a step-cut engagement ring with a brilliant-cut wedding band such as a round band grabs more attention to your wedding band, while picking a step-cut band keeps the emphasis on the diamond center.
Oval cut diamond shapes pair exceptionally with half-moon design side stones as the curved half-moon shape complements the round edges of an oval stone. The new, beautiful design set in two-toned yellow colored and white toned can be paired with many different wedding band designs. One popular choice is adding an oval eternity wedding band.
When there is talk of cushion cut diamonds, they are becoming more and more popular every year and now cushion three stone designs are popular trends clients often look for. Pairing a cushion cut diamond with pear-shaped side stones is a superb feminine look.
To complement this lovely design, a pear shaped wedding band is recommended that follows the orientation of the side stones and creates an exceptional look. A cushion cut eternity band is a unique choice as well, particularly if you want to wear your wedding band at workplace or while travelling.
Asscher 3-stone engagement ring designs stand out as they are a more unique design. The Asscher 3 stone in particular is exceptional in design as it is both two-toned and yellow colored gold. In order to grab the attention on this stunning design, picking a band that complements its rare combination is essential.
The Asscher cut band goes perfectly with the ring making it a superb choice! Another, stunning choice would be a round-cut eternity wedding band.
For those who are looking for a more sparkle, going with the three-stone combination on a pave band is a superb choice. One can also combine it with a thin 3-row diamond wedding band for extra shine. This ring design in particular also has a hidden halo setting under each side. Almost all of the wedding bands still fit with this particular design.
3 row rose gold wedding band really makes the design stand out. Another great choice is a timeless prong round shaped band, which offers extra shine as well.
Final Thoughts
The three-stone setting is a superb and versatile ring setting. People go with a three-stone setting because they can personalize it. With three stone engagement ring design, not only are you designing a ring that's stunning, but meaningful as well.
Also Read : How To Start A Career In Jewellery Designing?