Holographic nails have been a trend for a long time, but the truth is that this type of nails implies not only that shiny effect as if it were metallic that characterizes them, but we can also wear them with the most varied designs that surely, you will love them. Let's see then next, the best holographic nail designs: how to wear them in 2020.
What Are Holographic Nails
Before we start to see what designs we can wear for our holographic nails by 2020, it will be good that we know what exactly these types of nails are .
The holographic nails are a type of nails that are too far from conventional nails, except for a finish with a glow thanks is achieved a powder containing a pigment called SpectraFlair which is made of aluminum fluoride and magnesium , and it refracts light very well, which gives it its holographic properties.
It is used not only to make this type of nail polish, but also in dyes. Spectraflair and other holographic pigments come in many varieties and can also be purchased on their own; in fact it can be easily found in online beauty stores or also in stores like Amazon
The holographic glazes are also sold in different varieties . Some are called scattered glazes , because the particles in it form a rainbow that is not uniform.
More rare and sought after are linear holographic pigments , which refract light in a way that creates a uniform or linear rainbow. The different holographic polishes can also be found with a gloss finish of different sizes.
Another type of holographic nail polish is simply layering dry holographic powder , which is not Spectraflair, over an existing polish layer.
If you want to be able to wear holographic nails then, you have the option of applying a polish that already contains the aforementioned pigment powder or painting them with a polish of the desired color and applying the powder on top. Let's now see how holographic nails are made.
How To Make Holographic Nails
The Holographic nail provides a nice glossy finish and sure after reading our suggestions, you'll want to wear them . Designs that will surely inspire you, it is important to know the process and how they should be painted, which is what we are going to tell you next.
When it comes to doing a holographic manicure we have to be very careful because, depending on how we apply it, the result can be something spectacular or a disaster. Let's see how to do it.
First of all you have to know how to choose the holographic polish to apply. As we have said, on the market there are enamels that already have a holographic pigment shine so if you don't have much experience in this regard, it may be the best option.

All you have to do then is apply the polish to the nails like you would any other polish, and then apply a top coat. Some may require curing under a UV light and some may not.
The Holographic powders are a little more difficult to apply, but here are the steps for those who are willing to take the challenge.
Apply a base coat and then a solid color. Any color works, but if you are not too experienced you can consider white or silver, which makes the gaps and errors less noticeable.

Apply a top coat of gel . This is to allow the powder to stick.

Apply the powder with a brush , from the base up.

Brush off the extra powder gently once it has dried. An eyeshadow brush is best for this step.

Then apply another layer of powder and remove the excess again.

Let nails dry for 60-75 seconds under UV light.
There is infinite potential in designs, colors and accessories. With practice and patience, anyone can learn how to do amazing and brilliant manicures at home, but for now we are inspiring you with these designs.
Holographic Nail Designs 2020
For this year 2020 the trend goes beyond the mere fact of wearing shiny nails, now they are loaded with glamor and elegance. Incredible designs and shapes where shine and texture combine to create spectacular holographic nails.
For this season, the holographic nails 2020, come powerful and challenging, as the mirror effect is the ones that are in demand the most, they look good with any type of look. The truth is that they are precious and will surely attract attention.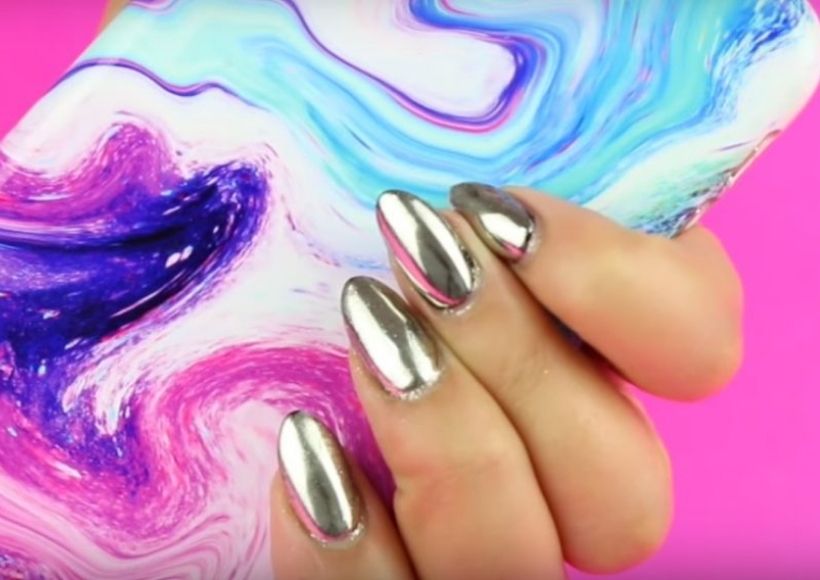 On this occasion, the chosen design has been on an oval-shaped nail , perhaps at the tip they could be too aggressive, however with almond nails the effect is total.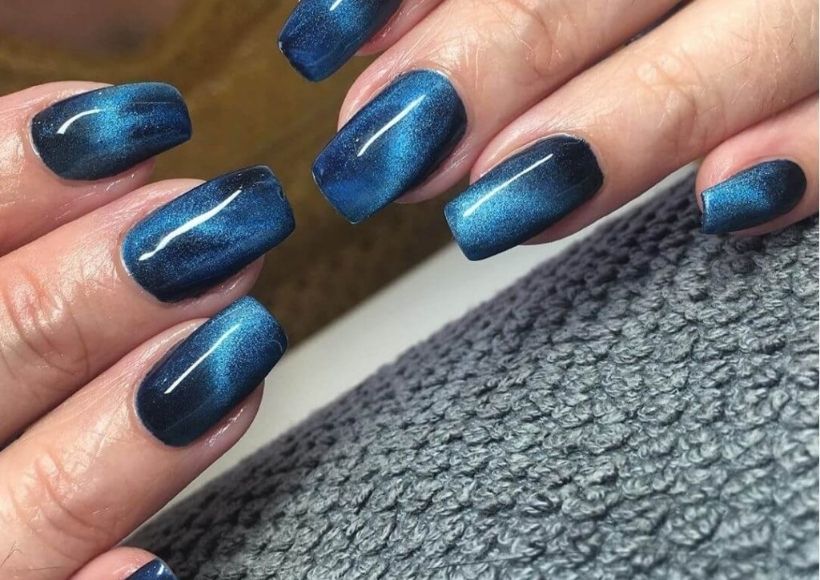 Now that Star Wars is back in fashion, what do you think is paying the series a small tribute by wearing spectacular galaxy effect nails. A design created by degrading the denim blue tone , some very fun and enigmatic nails .
If we want to continue with the theme of blues , a color that this season will be in the top ten, we can opt for a holographic nail design in different shades, always within the range of blues. Interesting is the transition that has been used to change the tonality.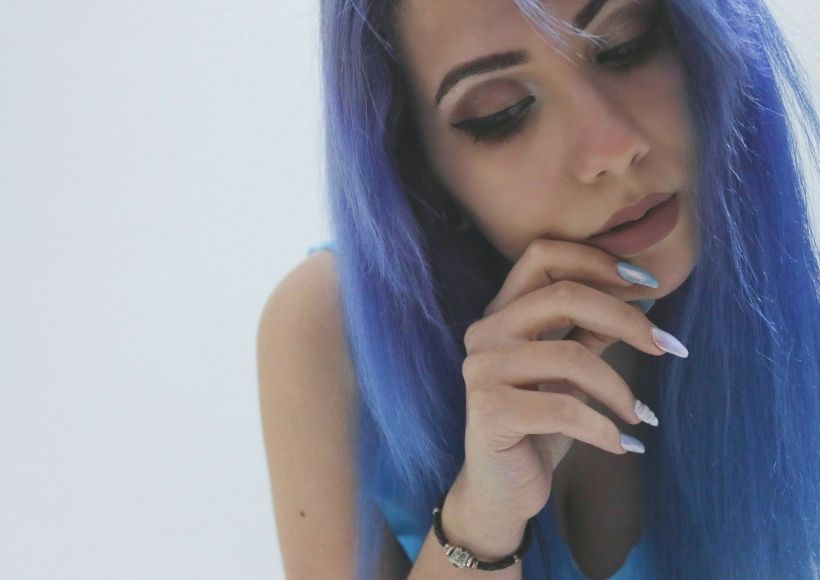 Surely this year you are invited to more than one party , if you want to make a mark with your style and elegance, your nails must be in line.
What do you think of this beautiful and elegant bet, in black and purple, a 2020 holographic nail design , in which alternating a silver purple design with one in matte black , creates this particular and festive contrast effect.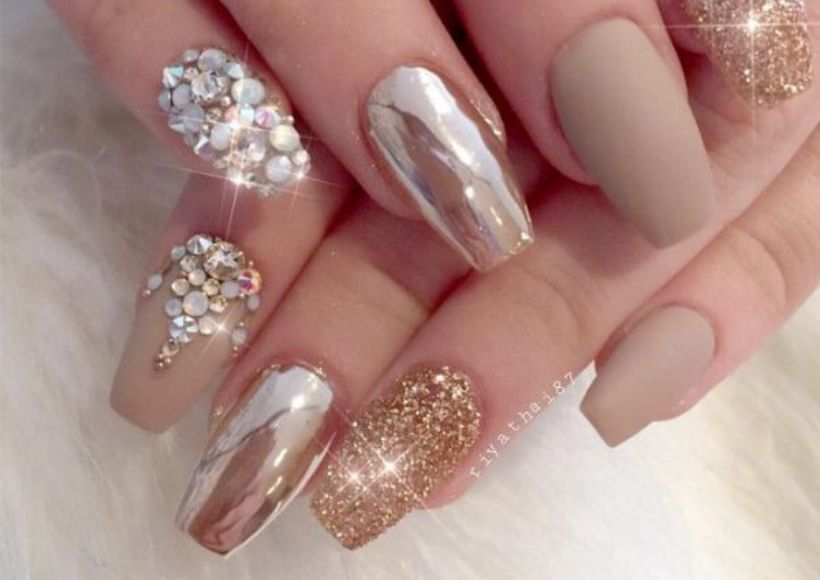 We are looking at different examples of holographic nail designs and how to wear them . This design that we present below, you will surely love it. Holographic nails in different colors, yes, always in pastel tones and applied to square nails. A success for its young and carefree air.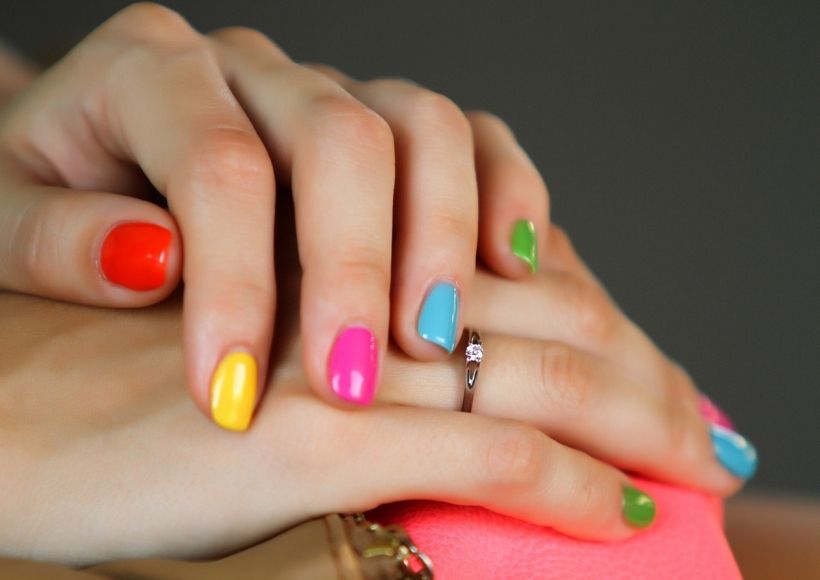 As we have already mentioned, mirror nails are a holographic 2020 nail design that will triumph, but if we combine them with marble effect nails , the result will be incredible, sophisticated, elegant and beautiful design.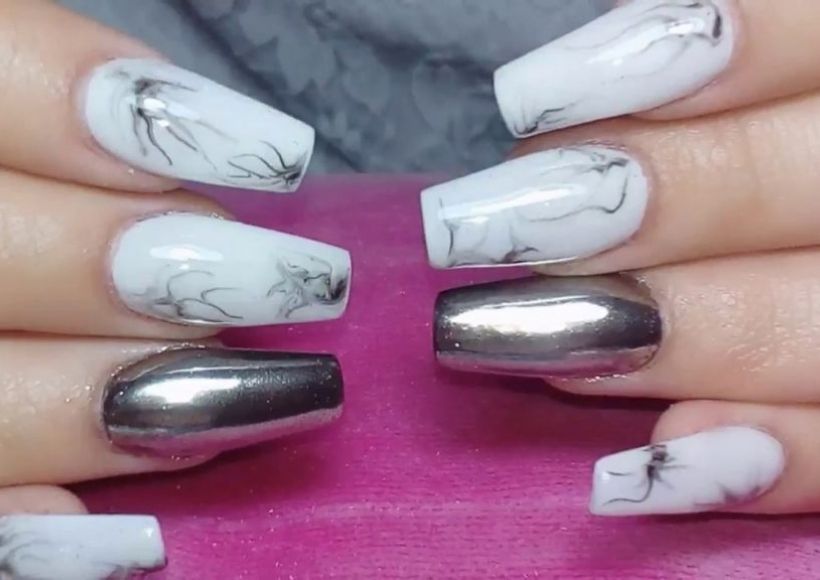 As we say, there are many holographic nail designs that we can find this year, but perhaps one of the best remains undoubtedly the most classic of all, with a slightly silver color , which is also worn with very long nails and pointed, as we see in the image below.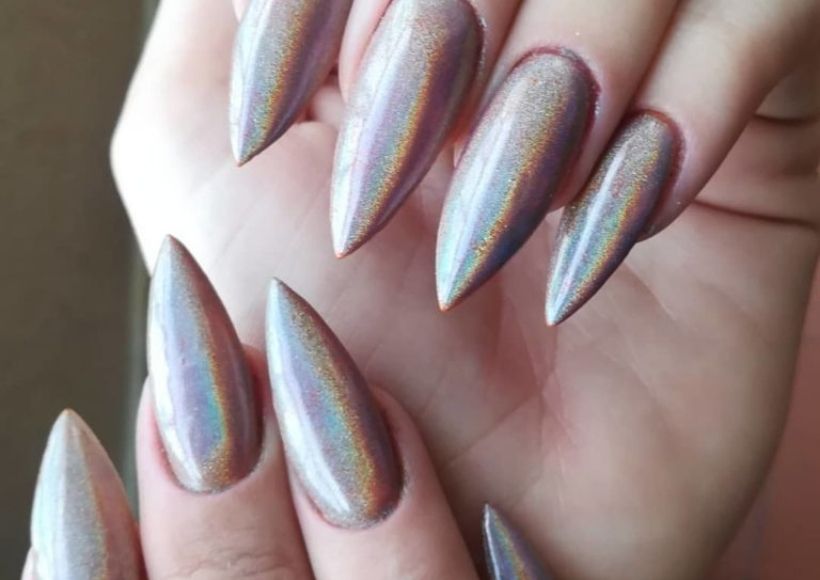 If you want something that is completely different, nothing like opting for a holographic nail design like this one that we show you.
In which you bet on painting with a pink or nude nail polish, applying the holographic effect on only half of the nail, in this way we can achieve a really new style, especially if we consider that it is a trend to wear manicure nails as if unfinished or undone.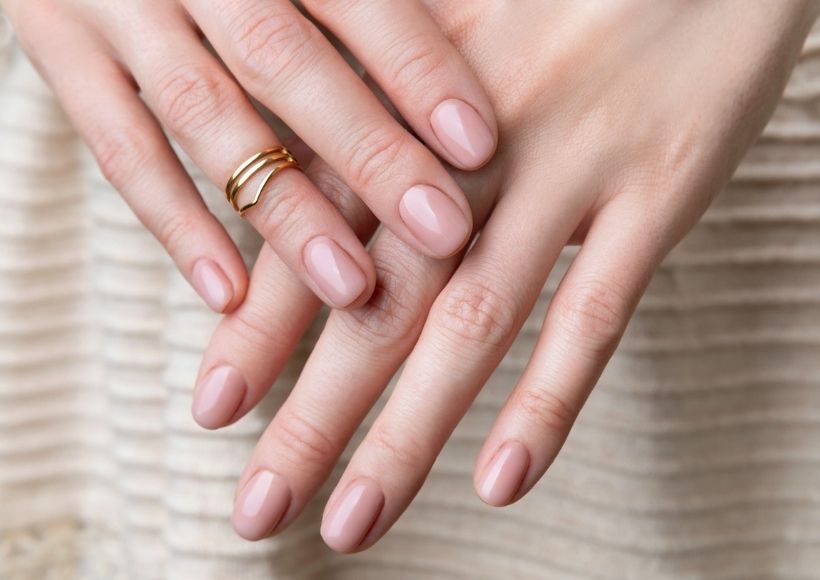 For those who are looking for colors that are trendy, among the holographic nails 2020 nothing like choosing everything that are bluish tones , as we see in the image below, which somehow reminds us of the classic gray color that we have seen previously.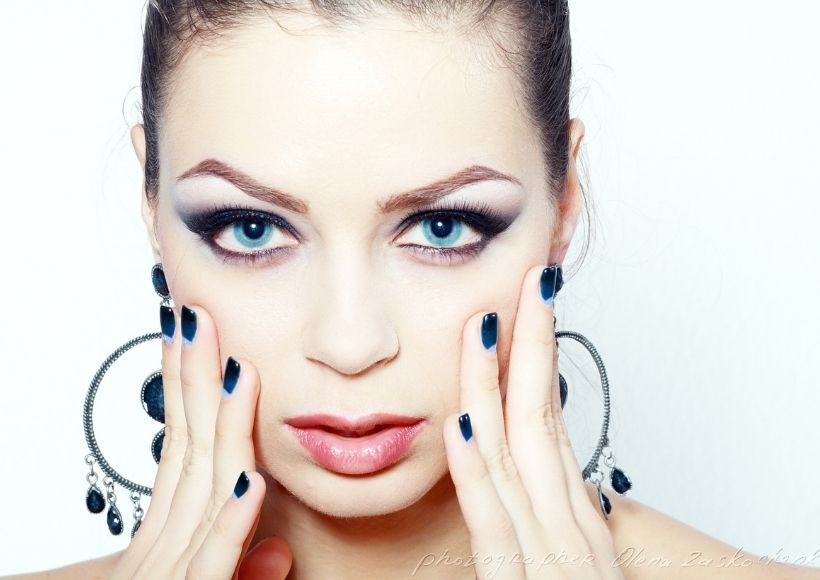 Or you can also bet on everything that is pink tones . We have already seen a holographic nail design in pink , but we want to show you this other one that is also worn with an almond style , as the latest trends in nail manicure also mark.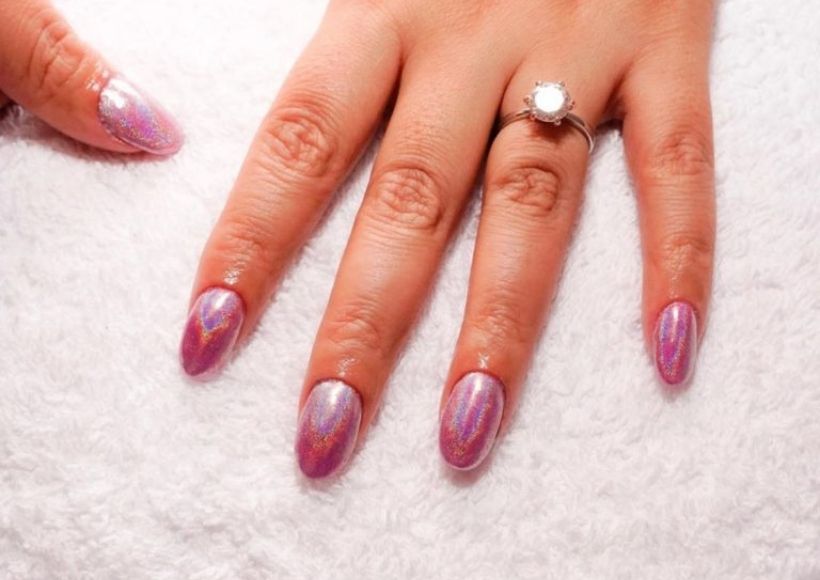 On the other hand, we can also combine our holographic nail design with a polish that is completely smooth.
So that only the holographic polish is applied to half of the nails, leaving the others to be worn with a polish of a color such as gray or black, as we see in the photo below.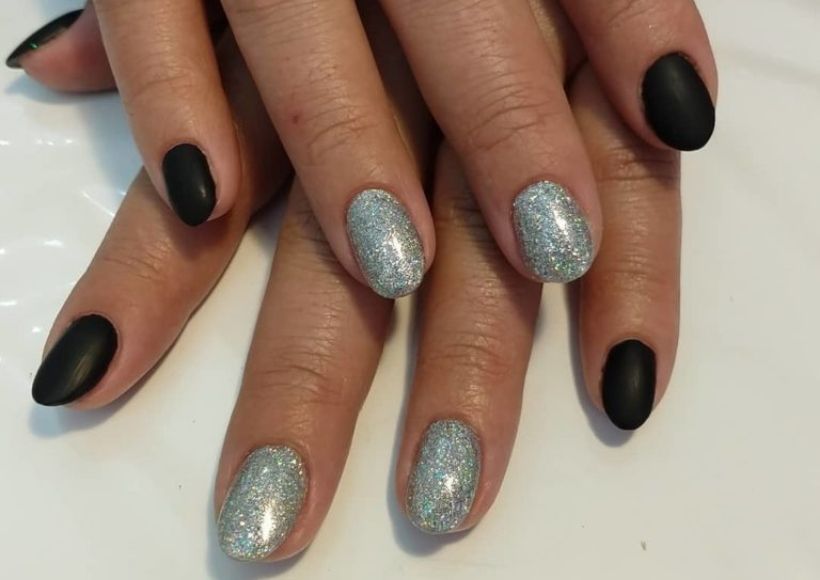 Also among the holographic nail designs that you cannot miss, or that we think are really recommended, we have this one in which nails painted in black and combined with a silver holographic effect are presented, but also creating a wave effect that looks like flames .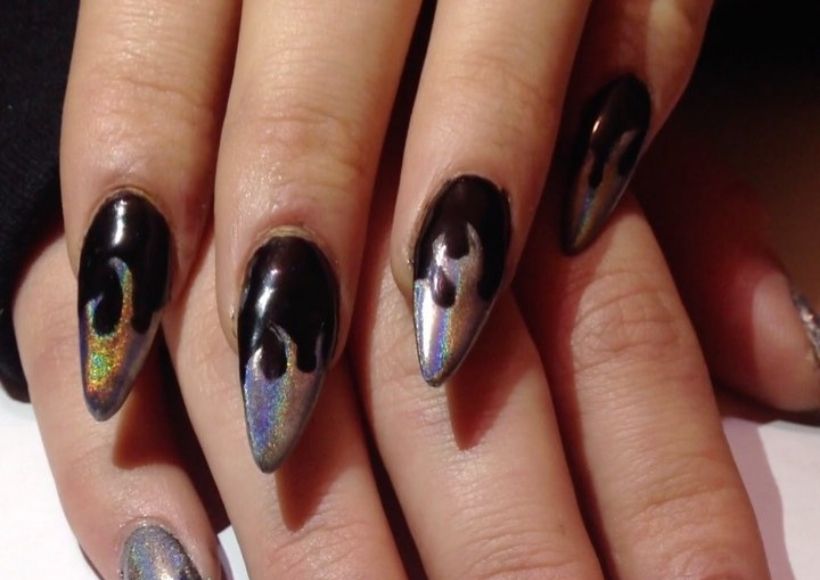 Also Read : Best Elegant Nails | Types Of Elegant Nails