Do you want to wear makeup at Christmas? Here are our simple and easy-to-copy ideas. Must have: red lipstick and glitter. You know, the holidays sometimes cause general stress for the perfect organization. Whether it's a family dinner or lunch, or a Christmas trip out of town, there are many things to think about … and perhaps even when looking for all the gifts you feel exhausted among shops and Christmas fairs! A real race against time… but don't forget about yourself!
Think in advance how you want to feel for the Christmas situation you are organizing … from simple Christmas makeup to a party look, browse our Christmas makeup tips and tricks, and all our ideas, you will surely find the right idea to surprise your relatives and friends!
Obviously there is a perfect color to do justice to your Christmas 2020 makeup : red , which is the holiday color par excellence! Everyone knows the potential of red lipstick for a dramatic lip makeup, sensual and trendy, therefore, why not use this nuance to create a Christmas makeup that embodies the Christmas spirit? Whether it's an eyeshadow, eye-liner or a gloss, this nuance – in all its nuances – can guarantee you eye makeup for lips that will leave everyone speechless, without even forcing you for hours in front of the mirror on the morning of December 25th.
Not to mention that it is such a bold color that it can be both the only protagonist of the makeup and the perfect match for other shades with a Christmas soul such as silver or gold .
Choose whether to shine and shine from the aperitif to the opening of gifts, daring with gold and silver glitter or if you prefer a natural effect Christmas make-up for family lunch: with our Christmas make-up ideas you can create the look you want in little time … and enjoy the celebrations feeling more beautiful!
Red Lips Can Be The Only Protagonists Of Your Christmas 2020 Makeup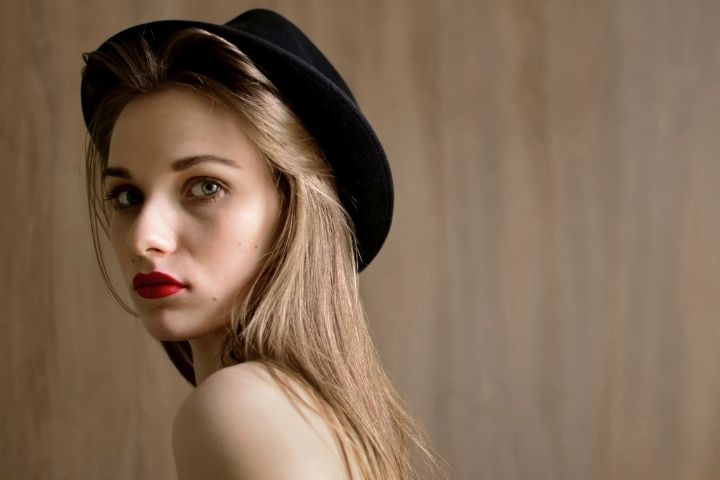 A red lipstick can really be all your Christmas 2020 makeup looks needs to shine! To be chosen in a lively and vitamin shade, it will not only make your smile much whiter, but it will allow you to choose minimal eye makeup, with only a veil of mascara. The more experienced can try to create a degrade lip makeup starting from a darker shade and progressively lightening it towards the center of the lips, to create the illusion that they are more plump. Match your long lasting liquid lipstick to a light and luminous face make-up base that makes the whole look very natural and draws attention to the only bold detail of your Christmas 2020 makeup : a pair of fiery red lips .
The Makeup Trends For The Party Season Speak For Themselves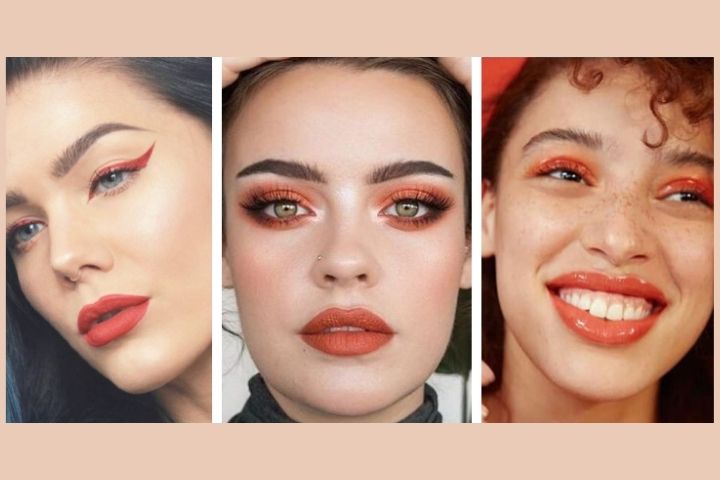 There are many stars who have succumbed to the charm of a blue eye makeup in shades of red, burgundy and burgundy. The makeup trends for Christmas 2020 , however, are not satisfied with a flamboyant smokey-eye, but combine eyeshadow and lipstick, declining them in the same shade.
A gorgeous and wearable look both in the matte version and when combined with a glossed finish on both the eyes and lips, especially to enhance dark eyes. To give a modern touch to makeup – as well as enhance the shades of the iris with green eyes makeup mind-boggling – choose a red eyeliner to create a very special cat-eye.
Simple Christmas Trick With Family Lunch
A simple Christmas trick is ideal for the family lunch occasion . Simplicity resumes the concept of makeup with a natural effect, so it is recommended to use only soft and illuminating colors but without marking. The natural sweetness effect is achieved starting from one face base of soft texture , then color the upper lids with pink eyeshadow so as to brighten the eyes, or leave a faded effect with colors such as gray or beige, all defining the lashes with an excellent mascara . Then follow with a pink lip gloss so as to make the lips more luminous and shimmering.
Also for lunch, given the moment of light and authenticity, you can also choose to dare with a more showy and cheerful look, let's say the classic Christmas with red lips and manicure ! Remaining themed perhaps with a peach-colored eyeshadow always to illuminate the eyes,apply eyeliner to mark and define the eyes and, finally, a nice mascara.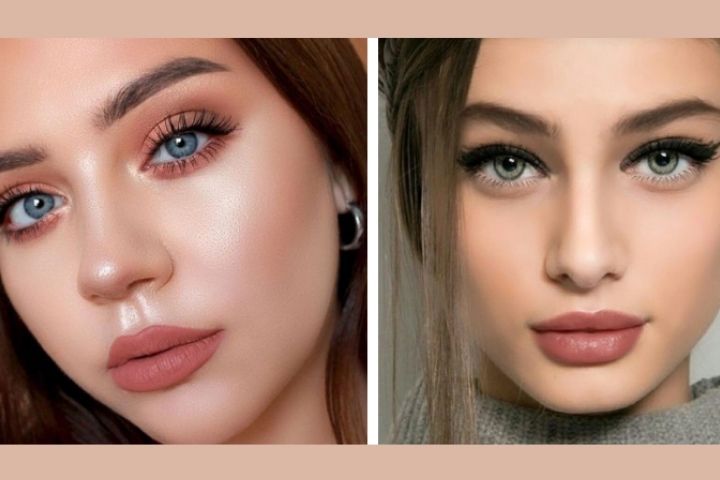 Alternatively, if the occasion recalls a slightly more aristocratic Christmas lunch, then an elegant nails and stately style makeup is for you. Choose a plum or cherry matte lipstick , perhaps long lasting. While for the upper part of the face stay on eyeshadow colors as soft as possible, such as an antique pink, beige, or if you like to illuminate a peach color, and finally define eyes and lashes with a good game of eyeliner and mascara.
If the classic Christmas trend of red in all shades , light, dark, bright or metallic or deviated towards burgundy will make you feel more themed, then go with a total red makeup for a great personality, sensuality and chic!
Makeup For Christmas: Eyes In The Foreground
Whether it's a Christmas with family or friends , what better occasion to choose a bright and shiny Christmas eye makeup ? Here's how Christmas magic can be done with a good eyeshadow game! Choosing the color, the shade that most illuminates us is certainly possible by considering first and foremost thrown eye color, yes … of the iris! Let's see together what are the color combinations for a magical party makeup!
For green eyes you can combine eye shadows such as pink and purple, blending them to your liking, perhaps with more marked waves and other more gentle ones. If, on the other hand, you have the chilling gaze with a pair of blue eyes, then there are two options for a good party makeup: on the one hand, highlight the magnificent blue of the eyes with eye shadows of colors such as peach, orange or bronze, the classic warm colors in short, on the other hand, if you prefer a softer effect, then it is recommended to use shades of blue or blue.
For a chocolaty and warm brown-eyed look, the ideal Christmas makeup could be proposed with a warmth tracing using eye shadows such as green, hazelnut or dove gray, perhaps choosing to blend them together with darker and lighter waves. In fact, green would give more brightness to the look! Even bronze and purple are ideal for making the brown eye look more "hot". For a look, however, with black and penetrating eyes, then the choice of colors remains totally to your liking! The beauty of black is that it goes with everything!
Christmas Makeup Ideas
And finally, a couple of make-up ideas for Christmas that do not use traditional red, with Christmas makeup to follow step by step:
First Idea Is All Bronze
Create a complexion face base with highlights on the forehead, cheekbones and chin , perfecting the shadow areas with blush or blush. To make the highlights and shadows like a star.

for the eyes, reproduce a bronze effect, blending with shades of bronze-colored eyeshadows, treading the part closest to the eye of the upper lids and lightening towards the eyebrows .

Review the eye contour both on the upper and lower eyelids with an eyeliner, perhaps drawing a more elongated eye shape and finally define and volumize the lashes with an excellent mascara.

Finish with a bronze color even on the lips with a matte effect.
You will notice how the play of shades of warm colors will make the makeup airbrush easier if you are brunette, brown eyes, or will stand out the colors on your face if you are blonde with blue eyes.
Second Idea Is Purple Fever
Leave the makeup base as described in idea 1

Stay on shades of purple , with a velvety effect on the lips and shaded with glitter on the eyes .

A dark purple lipstick on the lips , while a gold glitter on a dark purple eyeshadow on the eyes would be ideal for a much more sexy and composed look, perhaps for a guest Christmas!

Then go over the eye contour on both the upper and lower eyelids with an eyeliner, perhaps drawing a more elongated eye shape and finally define and volumize the lashes by putting the mascara well
Third Idea Total Gold Christmas Make-Up
Illuminate your eyes with a Christmas makeup focused on shades of gold . Have fun and experiment with more combinations that best match your photo type. Create a refined, precious and chic look in line with the atmosphere. The watchword for this Christmas 2020 is to shine, so here is the article to quickly create an elegant and perfect make-up for the occasion.
Cleanse your skin properly and apply the day cream you usually use (make sure it is really suitable for your skin type and that it responds perfectly to your needs). Apply the foundation and possibly also the concealer to mitigate possible imperfections and dark circles. Then fix everything with a powder of excellent quality and texture. At this point we proceed by steps:
choose an eyeshadow to make a flawless gold Christmas makeup. Preferably opt for a metallic effect , which in addition to opening the gaze, gives depth and three-dimensionality. Remember that warmer shades of gold enhance light eyes . The prevalence of the orange pigment, in fact, intensifies the blue irises. If you have dark eyes, on the other hand, play with the shades of bronze and copper or with the very light shades of gold. The eyeliner and mascara will do the rest.

At this point, smudge a flat-bristle brush with eyeshadow and staple the powder all over the lid.

Give more light to the eyes with a shimmer (bright) brown to be applied in the outer corner of the eye. With a suitable brush, blend the eyeshadow well up to the crease of the eye.

Create a line on the lash line using a soft black pencil that you will set with a black eyeshadow to blend outwards.

Apply a generous amount of waterproof black mascara to give a volumize and lengthening effect, similar to false lashes. For a better draft, pass the brush several times and with zigzag movements.

Define the eyebrows by combing them and possibly correcting their shape with a pencil of the same color. Proceed step by step.

Create a nice point of light in the inner corner of the eye, using a very light powder with a shimmer effect.

Open and illuminate your eyes with a light eyeshadow to be applied strictly under the eyebrow.

Complete the Christmas makeup with a delicate , orange, preferably peach-colored blush .

Define your lips with a nude lipstick or if you prefer to be daring, use a nice deep red. Go for long-lasting products.
Also Read : How To Choose Bridal Makeup: 5 Useful Tips